Fundstrat report: Many positive catalysts for crypto in 2019
According to their report on various aspects of the crypto sector, Fundstrat Global Advisors outlined 9 improvements that will (hopefully) usher in upward price action in 2019...
Fundsrats co-founder, and notable bitcoin permabull, Tom Lee, recently tweeted out the following report:
CRYPTO: we see 9 incremental improvements in the landscape that ultimately support higher prices.

See below... pic.twitter.com/7DSrfVjkoi

— Thomas Lee (@fundstrat) February 8, 2019
One of the first positive convergence trends is the weakening of the US dollar, which Fundstrat envisage will inversely affect the non-correlated BTC price. Similarly, the firm expects market equities to outperform the US stock market, which Fundstrat postulates will invigorate crypto and other similarly non-correlated, risk-on assets.
Speaking of traditional investments, the report expects that institutional money will come in this year, thanks to the evolution of investment vehicles, such over-the-counter trading desks, and crypto custody solutions; alluding to ventures from the Intercontinental Exchange and Fidelity Investments.
The report also notes on-ramps and off-ramps as a major catalyst, specifically citing Binance's recent facilitation of debit and credit cards.
Read more: You can now pay for crypto with a credit or debit card on Binance
Within blockchain growth the report specifies the progress of scaling solutions, adding that the lightning network almost reaching critical mass will bolster investor confidence, along with advancements and adoption of privacy technology.
Long-term bull, short-term bear.
While Fundstrat's long-term outlook is fairly bullish, it appears the firm is lacking in short-term positivity. As recently reported, Fundstrat strategist, Robert Sluymer
Recently proposed that due to a weak technical position, the crypto market may be in for a retest of the lows exhibited toward the end last year, adding that smaller projects are at the most risk.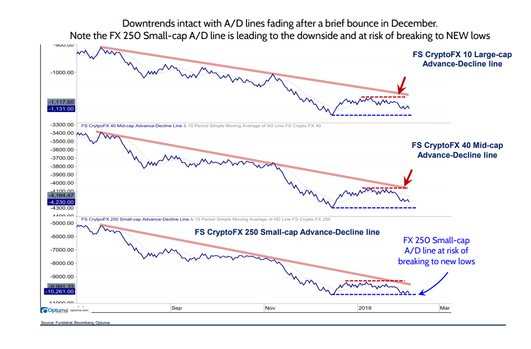 Read more: Fundstrat says the crypto market may retest lows seen in December 2018; Bakkt is our 'Moonshot bet' on Bitcoin & crypto, says ICE CEO Jeff Sprecher


Follow Chepicap now on Twitter, YouTube, Telegram and Facebook!