The market is (mostly) keeping its gains; is this the start of a bull run?
After Friday's impressive gains saw over $7 billion added to crypto's total market cap, raising Bitcoin (BTC) from $3400 to nearly $3700 in a matter of hours the market is uncharacteristically stable, for the most part keeping its gains leading some analysts to believe the tide may be turning in favor of the bull.
BTC is currently holding fairly solid at around $3655, with a gain of +4.2% in the past week.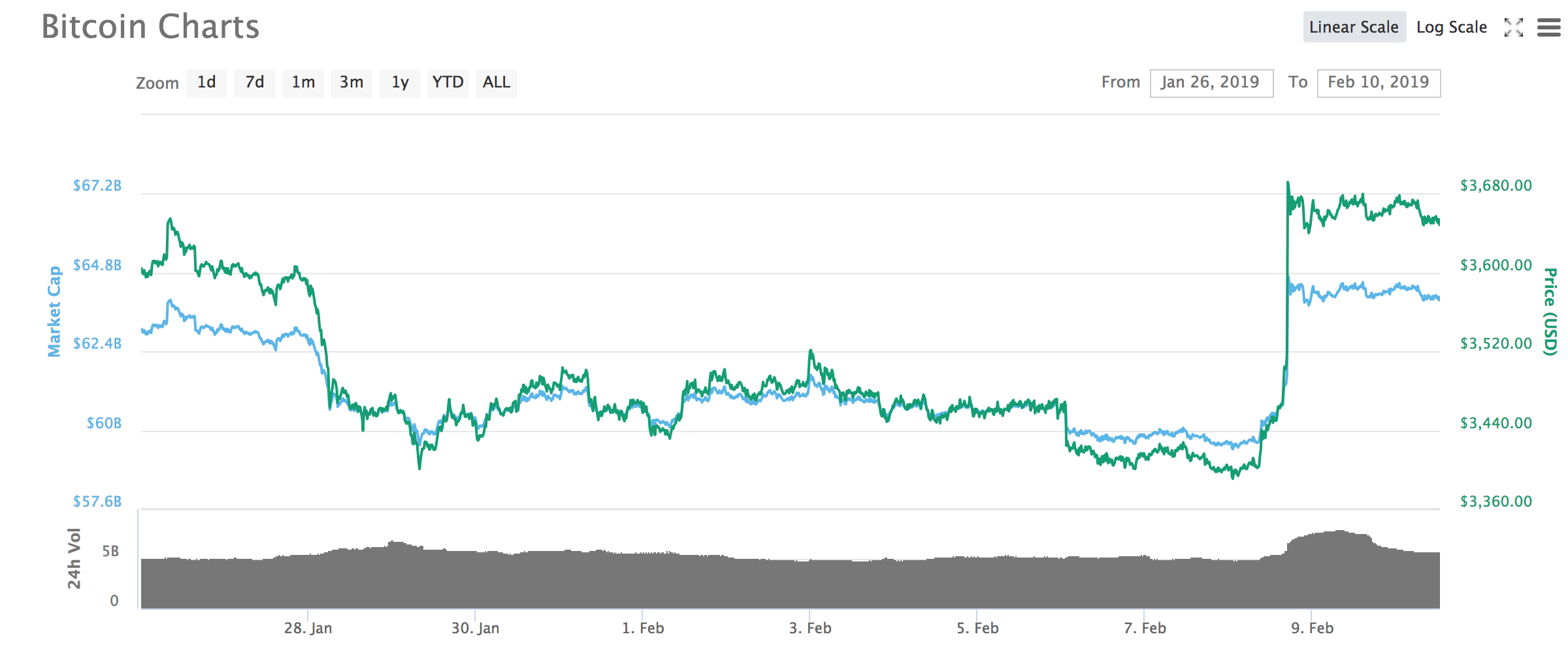 Similarly, Ethereum (ETH) is remaining resistance to any downside with a +7.5% increase on the 7-day charts.
Keeping to this more bullish perspective, EOS, and Bitcoin Cash (BCH) are both keeping the momentum up, with respective gains of +14.5%, and +2.4% this past week.
Litecoin (LTC) also continues to perform up +29.2% in the last 7 days following the news of potential privacy upgrades.
Not trying to come off too bullish but look at weekly chart from last fall before bull run compared to current momentum of #Litecoin now

I'm just saying! 🚀#LTC pic.twitter.com/1TTkAg5C9c

— Crypto Capital Venture ⚡ (@cryptorecruitr) February 9, 2019
Binance coin (BNB) is on a continued upward trajectory, citing an impressive +31% increase on the 7-day charts.
gotta keep shilling... https://t.co/fHcjTRwSi6

— CZ Binance (@cz_binance) February 10, 2019
You tell 'em CZ!
However, it's not such a rosy outlook for every coin, with Stellar (XLM) citing a loss of -6.2% over the past week followed by Tron (TRX) down -1.8% on the 7-day charts.
XRP is also in a slightly worse off position, showing a -2.6% loss on the 7 –day charts but still holding on to the majority of Friday's gains.
Interestingly, this recent pump has some speculators and analysts alike expectant for more upward action:
Most large caps made decisive S/R flips today on high volume. I'll be in aggressive dip buying mode for the next few days expecting more expansion upwards.

Areas in green I'll be buying, areas in red I want to sell. $LTC $ETH $BTC pic.twitter.com/K0iEq3hGZA

— Instinct (@instinctxbt) February 9, 2019
#cryptocurrency Saturday positivity.#Bitcoin, and the entire #crypto market officially broke the falling wedge to the upside. Welcome to the bull market.

Credit: Alex Mishkin pic.twitter.com/Yzw8xdBreN

— Alex Melen (@amelen) February 10, 2019
Trend break on total market cap. Things are getting interesting #BTC #crypto pic.twitter.com/giSPssDxaC

— Privacy Coins Amsterdam (@CoinsPrivacy) February 9, 2019
#crypto market seems to be good from last 3 days. #HODL .

— Mihir Barot (@mihirbarot89) February 10, 2019
Positivity aside, only time will truly tell whether or not these gains turn out to be a bullish indicator or a dead cat bounce…
Read more: Litecoin jumps into 4th place after 10% pump, following MimbleWimble news; Market soars back into the green, LTC up 29%
Follow Chepicap now on Twitter, YouTube, Telegram and Facebook!