Bitfinex goes offline leading to concern among users
About an hour ago, Hong Kong-based cryptocurrency exchange Bitfinex tweeted that the exchange as not accessible "to some users."
We are aware Bitfinex is currently not accessible to some users, our admins are currently looking into this. We apologize for the inconvenience caused.

— Bitfinex (@bitfinex) February 9, 2019
In response to the tweet, users called on Bitfinex to be more transparent, explaining that all users were unable to access the exchange. Shortly afterward, Bitfinex apologized for the statement explaining that in their haste to inform users of the issues, "We were poor in the choice of wording."The exchange further stated that all funds are safe.
More like ALL users. Just be transparent.

— 🇨🇦 604XRP_Malaysia 🇲🇾 (@604XRP_Malaysia) February 9, 2019
We apologise for our previous tweet. In the rush to make users aware of our issue promptly, we were poor in the choice of wording. We can confirm Bitfinex is offline to all users. Please be assured that funds are safe. We will communicate here with further updates

— Bitfinex (@bitfinex) February 9, 2019
The latest update from Bitfinex states that the issue has been located and will be resolved as quickly as possible. While there are no details yet on what caused the outage, users on Reddit have been posting updates as they become available.
User kain_niak explained that at around 7:45 AM UTC, Cloudflare began showing a "host error" message. Additionally, the official Bitfinex Telegram group is gone. According to the user, they came online briefly after about 75 minutes of downtime before going offline again.
The unexpected downtime has had many users concerned. According to another Redditor, Binance is also having issues which may suggest a DDOS or "Something nefarious."
On the bright side, however, the Bitfinex trading engine is also down which will be good news for anyone that has open short positions. With a bit of luck, the exchange will resume operations shortly.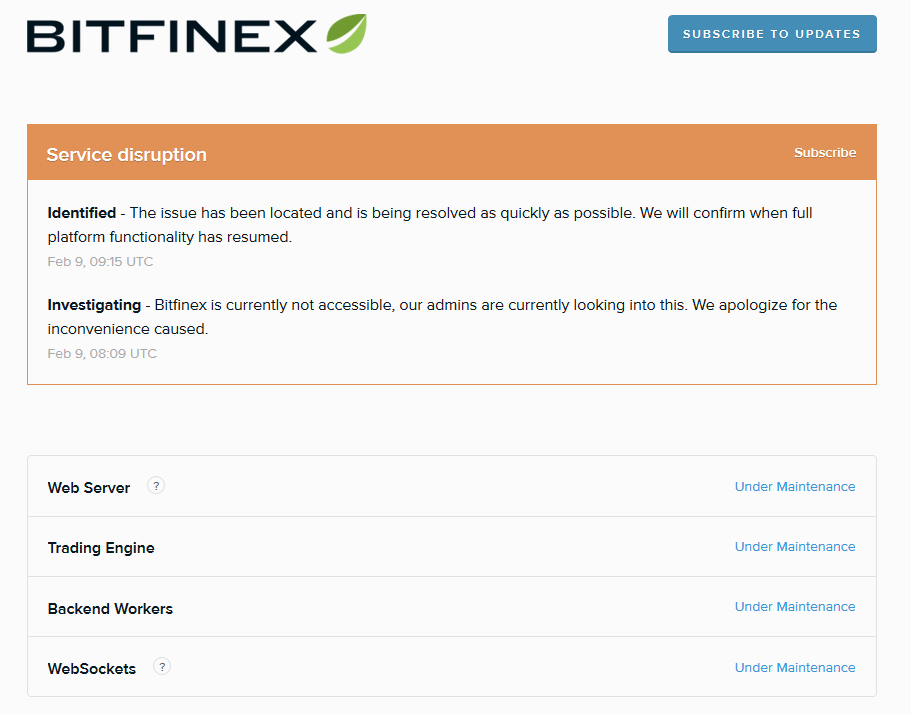 Update: Bitfinex will open at 10:30 UTC as view-only. Trading will resume at 10:35 AM UTC
Thank you all for your patience today. Bitfinex will open at 10:30AM UTC as view only, and trading will restart at 10:35AM UTC.

— Bitfinex (@bitfinex) February 9, 2019
According to the official apology, the downtime was attributed to a connectivity issue. Additionally, it's confirmed that all funds were safe during the period of inactivity. The team are currently investigating what led to the issue to ensure that it doesn't happen again.
Follow Chepicap now on Twitter, YouTube, Telegram and Facebook!