BTC transactions per block near all time high, fees still delightfully low
It is being reported by CryptoGlobe that currently transactions per block on the Bitcoin network are approaching the highest levels they have ever been, previously seen at the beginning of 2018. Despite this, transaction fees are extremely low. This is generally believed to be linked to less overall demand for Bitcoin and more efficient blocks.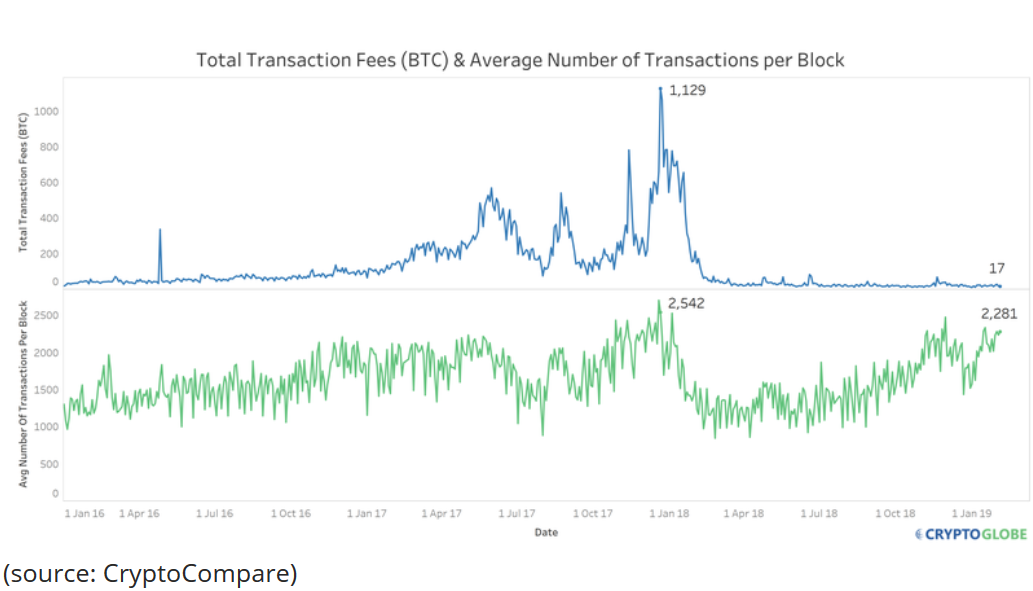 It seems at first counterintuitive that the fees would be low when the blocks are so full, but in fact full blocks mean a more efficient network. The reason fees were high during the bull run of 2017 is that demand was high and so although transactions per block were at similar levels to now, the value of each spot in a block was much higher because more people were making transactions, vying for those spots.
Efficiency in blocks has been helped thanks to the batching of Bitcoin transactions and the implementation of Segwit, which overall improves the amount of transactions that fit in each block.
This does point to hopeful scaling for Bitcoin, if further improvements can come along to deal with the next bull run. The real test will be when demand for Bitcoin increases to or above 2017 levels. Will the network handle it? Stick with Chepicap for all updates!
WATCH: Bitcoin Q1 Price Action reveals a pattern! Subscribe to the Chepicap YouTube Channel for more videos!


Follow Chepicap now on Twitter, YouTube, Telegram and Facebook!