Crypto trader exposed ex girlfriend identity on Twitter, put money on them
Renowned crypto trader and crypto trading mentor, Philakone brought his breakup drama to another level when he exposed former girlfriend's identity and put some amount of money on them.
The past week has been full of drama, not only for those who had their money on QuadrigaCX, but also for crypto Twitter enthusiasts who follow crypto trader and influencer, Philakone.
Read more: Widow of QuadrigaCX's CEO tries to keep properties away from creditors
The self-proclaimed crypto trader brought his break-up drama to the Twitter-verse last week. He started his series of tweets by "confiding" to his Twitter followers what has been burdening him.
He accused his former girlfriend as the main cause of his breakdown and that she had broken his heart and been using him for money.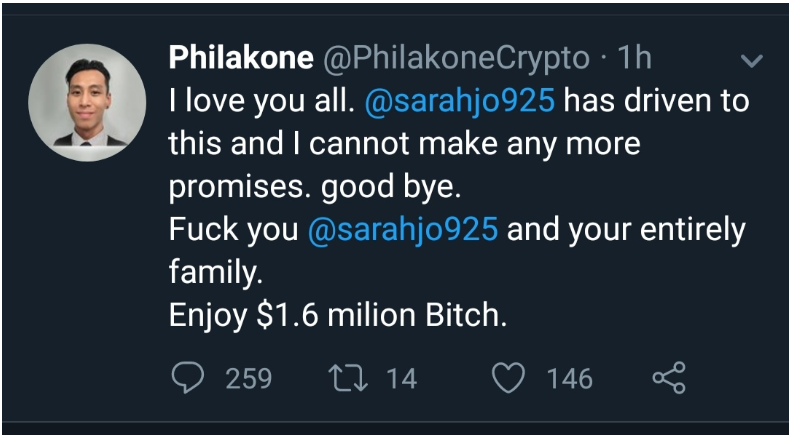 The tweet was responded by the girlfriend, Sarah who denied stealing his money, claimed that he "liquidated himself" and showed a screenshot of the communication she had with him earlier.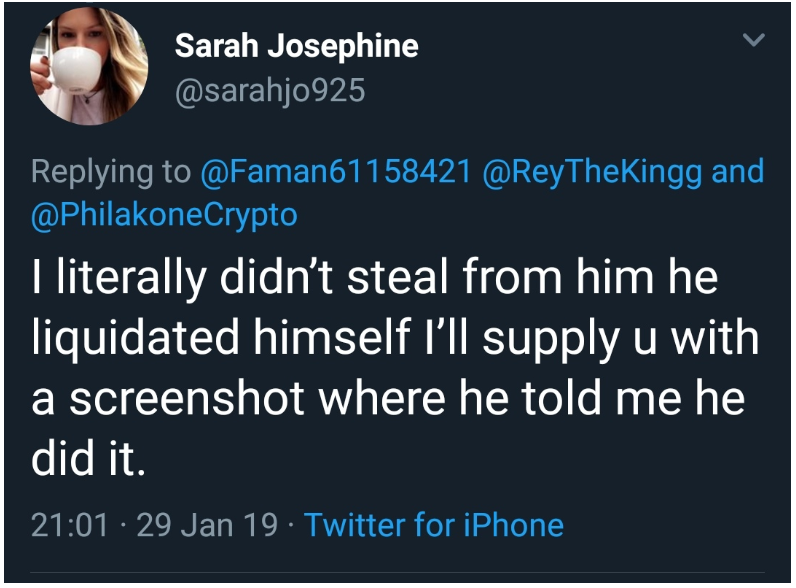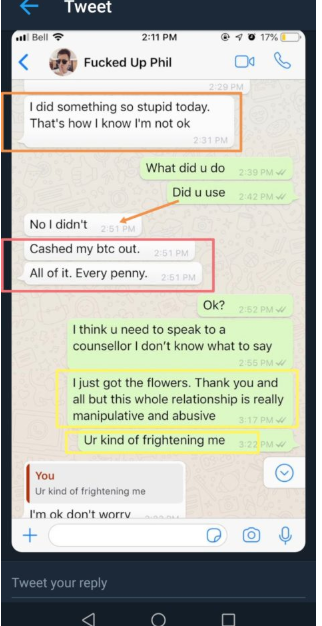 While it's not uncommon for people to confide over breakups, even to have arguments with partners on social media, what made Philakone "different" was his next tweets.
He went on by exposing his ex-girlfriend, Sarah's real-life identity, as in her full name (yes, including last name) and home address. On top of that, he put an amount of $150K on the tweet and wrote "Msg me!", something that's usually done when someone wants to use the "service" of a hitman.
But, Philakone thought it wasn't enough, so he posted another tweet that expose Sarah's email and phone number, followed by an amount of $100K and a message, "Take care of it my baby whales."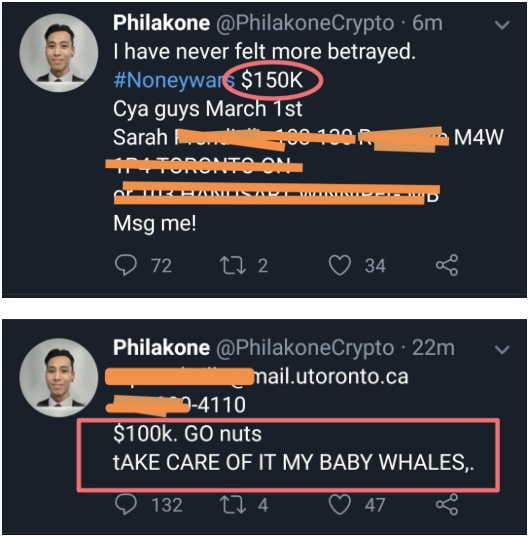 In return, Sarah posted Philakone's contact details as a "retaliation".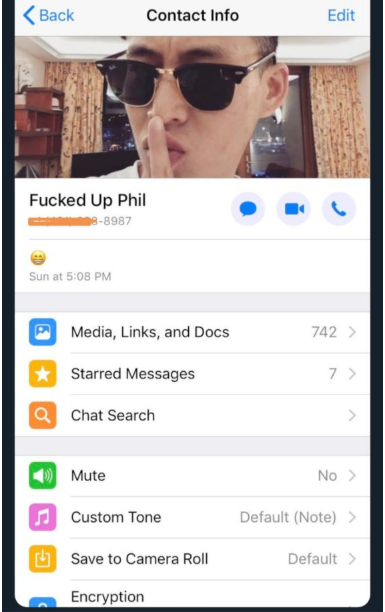 The Udemy's crypto trading mentor was still seen to post several other tweets before they were all deleted and Sarah's account deactivated.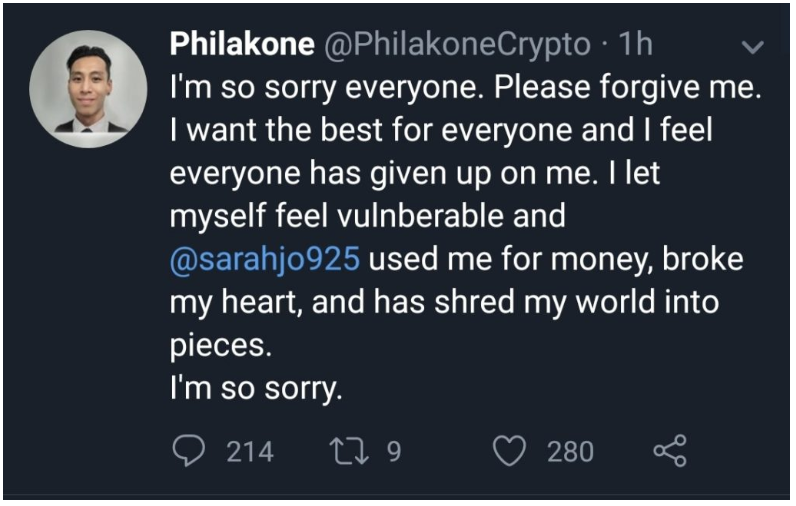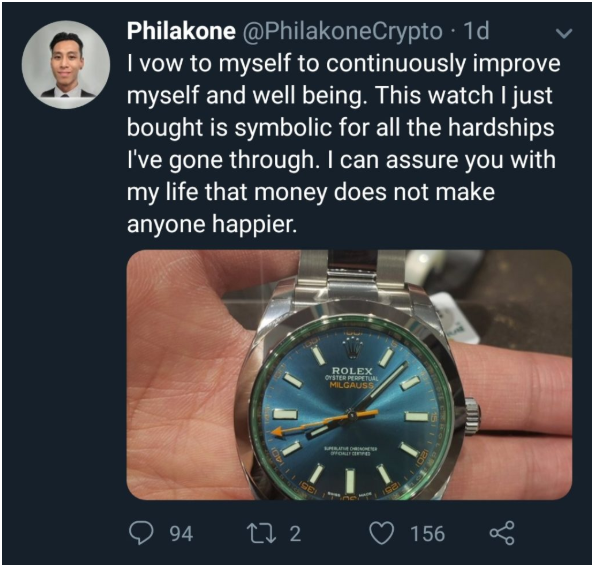 Philakone maintains his account with 108K followers and can be seen of posting updates on him being admitted to a rehab facilities.
What quite interesting is, after Sarah's account was deactivated, a new Twitter account that used the handle @sarahjoyouknow was seen to post several tweets trolling Philakone, some of them were NSFW materials.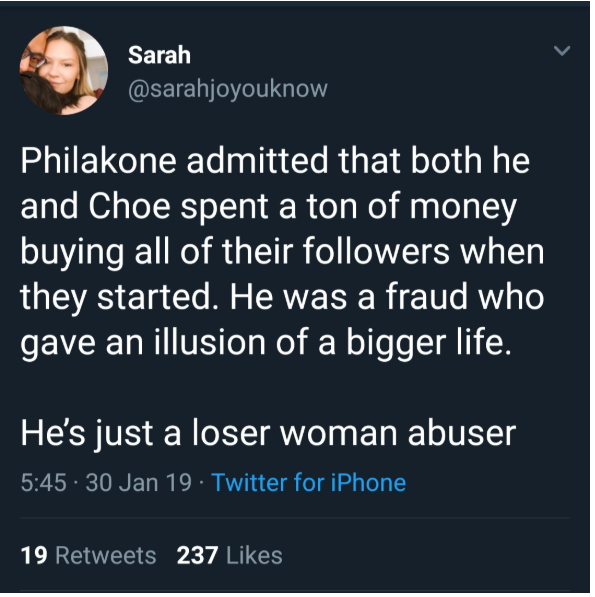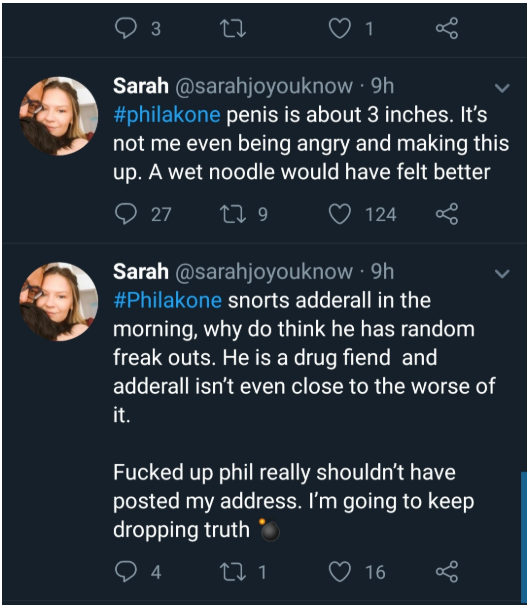 According to CTMZ, the account has been confirmed as fake and that the real Sarah had nothing to do with it.
The twitter-verse's responses are diverse. Some can be seen of supporting Philakone's efforts of getting clean from whatever that is, saying words of affirmation like, "Just don't keep making the same mistakes over and over again. You were a student at trading and applied your own lessons. Now do the same for your life", "We don't give up on you Phil, we'll never forget what you did for us! 🔥🔥🔥👊🏻" or "Take care philakone, we all made mistakes, thats life. Hope to hear from you soon in good conditions👍🏻🙏🏼."
Some others still condemn him for what he did and express their doubt of Philakone's intention of change, saying things like, "You literally put someone's life at risk through your own lack of maturity. This is unforgivable behaviour!" or "You should not be in twitter."
Nonetheless, let's hope everyone involved in the drama are well and capable of moving forward in life.
Want to receive the latest Chepicap news in your Blockfolio app? Help us to get listed by upvoting here! A big thank you from Team Chepi!
Follow Chepicap now on Twitter, YouTube, Telegram and Facebook!