Red all over the markets today, Binance Coin (BNB) is the exception
Cryptocurrency markets have been steady for the most part of the last 24 hours, amid a steep decline in prices which took place at around 01:00 GMT today.
As the following screenshot extracted from CoinMarketCap shows, global market capitalization has lost about $2 billion, as it fell from the low $113 billion to the low $111 billion range:

There are no competitors today for the Binance Coin (BNB), which just made it recently into the top 10 cryptos by market capitalization, leaving behind BSV as it crossed the mark of $1,1 billion. On the same group, ETH, BSV, BCH and LTC are taking the worse part of the losses, with price declines currently exceeding 4% in all cases.
The surge of the Changpeng Zhao – led token, overwhelmingly used by customers of the Binance exchange in order to get discounts when paying for trading fees, is leaving it into the position of retesting its previous BTC all-time high, set at about 0.0026 BTC per BNB on the 18th of June of 2018: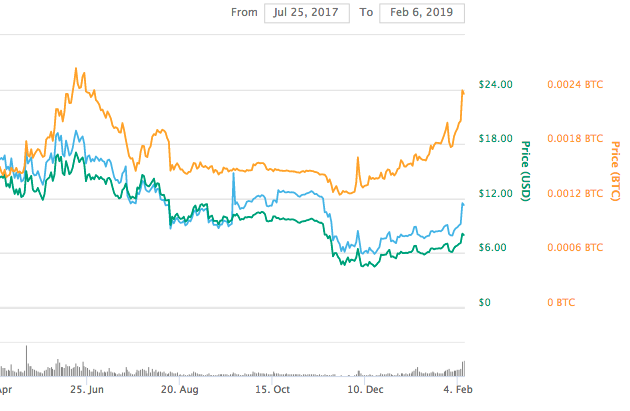 Binance Coin has been showing such impulse among a red market, that it is currently the best performing project of all the first 100 cryptocurrencies by market capitalization, thanks to gains above 12% at writing time.
To find a better performing coin, it is necessary to go all the way down to the 142nd token by market cap, Everipedia, a decentralized enciclopedia built on EOS, which is currently gaining 77% compared to 24 hours ago.
Read more: Binance Coin surges into top ten after new Launchpad project announced; Binance trading volume has declined by 40% since December 2018
Follow Chepicap now on Twitter, YouTube, Telegram and Facebook!