Jack Dorsey, the Bitcoiner: Twitter's co-founder on BTC, ETH, BSV and TRON
After receiving the Lightning Torch yesterday, the CEO and co-founder of Twitter and Square Jack Dorsey replied to many questions coming from different members of the Crypto Twitter (CT) space. Chepicap gathered some of Dorsey´s most highlighted reflections about Bitcoin, Ethereum, TRON and Bitcoin Cash.
It is important to mention first the Bitcoin experiment that led to the latest engagement of Dorsey with CT. Using tippin.me, a wallet for receiving and cashing out tips and micro payments with the Bitcoin Lightning Network, @hodlonaut started a chain of payments which up to now has passed through 37 countries and about 140 people. This tweet is the origin of the Lightning Torch chain:
Some LN fun..

- I send 100k sats with https://t.co/va7XSnFii0 to the first person I choose to trust that replies to this.
- That person adds 10k sats and sends 110k to someone (Either from reply to a new tweet, or this thread)

.. and so on

How many sats before it breaks?

— hodlonaut🌮⚡🔑 (@hodlonaut) January 19, 2019
Read more: Twitter CEO Jack Dorsey gets passed the "Lightning Torch"
Once the Lightning Torch had been passed by Jack, the storm of questions started. Perhaps the most important answer of all is this one right here:
I only have bitcoin https://t.co/C24xNJxuFB

— jack (@jack) February 5, 2019
Dorsey confessed being a BTC hodler. However, he did not want to give any details about the weight of his bag: when asked how much Bitcoin he treasures, he replied with a single word: "Enough".
The backing of Bitcoin was further explained by the Twitter co-founder in the following messages, self-reflecting on his recent statements where he dubbed Bitcoin as the best candidate for becoming "the Internet´s native currency", and on the brand dimension of BTC:
Everything. Mostly I think it has the greatest chance of being the Internet's native currency. If you think of the internet as you would a country, that's huge.

— jack (@jack) February 6, 2019
Bitcoin is resilient. Bitcoin is principled. Bitcoin is native to internet ideals. And it's a great brand.

— jack (@jack) February 5, 2019
There were also some references to Ethereum, but they were not as positive as the tweets referring to the cryptocurrency engineered by Satoshi Nakamoto.
Zero reason anyone would talk about this.

— jack (@jack) February 6, 2019
Acquiring some Ethereum at its current price point of about $100 does not seems an attractive deal for Dorsey either, as he gave quite a clear negative to the same question, twice:
No

— jack (@jack) February 5, 2019
Nah

— jack (@jack) February 5, 2019
Tron enthusiasts were faced with similar disinterest from Dorsey, who dribbled his way out of the question through cinematic means:
Love the movie

— jack (@jack) February 5, 2019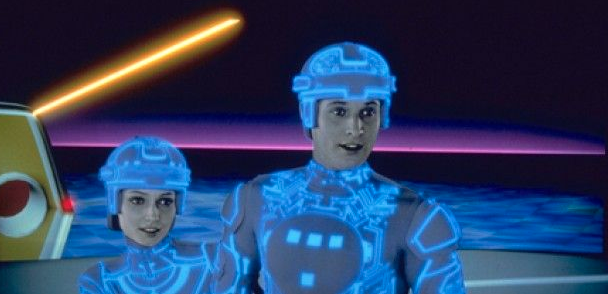 Screenshot from the 1982 film TRON.
However, the worse part was for Bitcoin Cash and/ or the Craigh Wright led project BSV. When Jack Dorsey was asked about his plans for including the option of receiving BTC transactions on the Cash App, he admitted that the functionality is currently on the works. However, the BCH and BSV holders won´t be able to benefit from it:
Working on it. But you'll need to keep coinbase to buy fakebitcoin 😉

— jack (@jack) February 6, 2019
Read more: Square's BTC trading app tops US downloads chart
Further attempts to convince Dorsey of the virtues of BSV had no effect:
Dumb take

— jack (@jack) February 6, 2019
Regardless of all the curiosity-quenching pieces of mind that Dorsey shared yesterday about cryptocurrency, there was one small downside: he appears to be unwilling to reveal his thoughts on when will crypto prices take off again:
Every 29.5 days

— jack (@jack) February 6, 2019
Read more: Crypto responds to Twitter, Cash CEO Jack Dorsey's pro-BTC interview; Could Jack Dorsey be right? Will we ever see BTC as a native internet currency?

Want to receive the latest Chepicap news in your Blockfolio app? Help us to get listed by upvoting here! A big thank you from Team Chepi!
Follow Chepicap now on Twitter, YouTube, Telegram and Facebook!