Binance trading volume has declined by 40% since December 2018
Exchanges have really taken a hit, following what is now the longest decline for Bitcoin in history. Just recently BTC surpassed the longest downtrend of 410 days to set a new record for the longest bear market in existence. The effects can definitely be felt on exchanges who have suffered dramatically.
According to crypto research company Diar, cryptocurrency exchanges have felt the chill in 2019, with numbers looking worse than 2018 already.
The report published by Diar admits that trading volumes have hit new lows that havent been seen since 2017. Most notably, is the Bitcoin/USD market on Binance, which saw a massive 40% decline compared to December 2018 trading volume. This represents the worst period for the exchange since its inception.
Other exchanges include Coinbase, who saw the BTC/USD pair hit lows not seen since May 2017. Gemini and OKEx also saw declined volumes in 2019.
Read More: Bitcoin's first 7-month consecutive price drop is at the horizon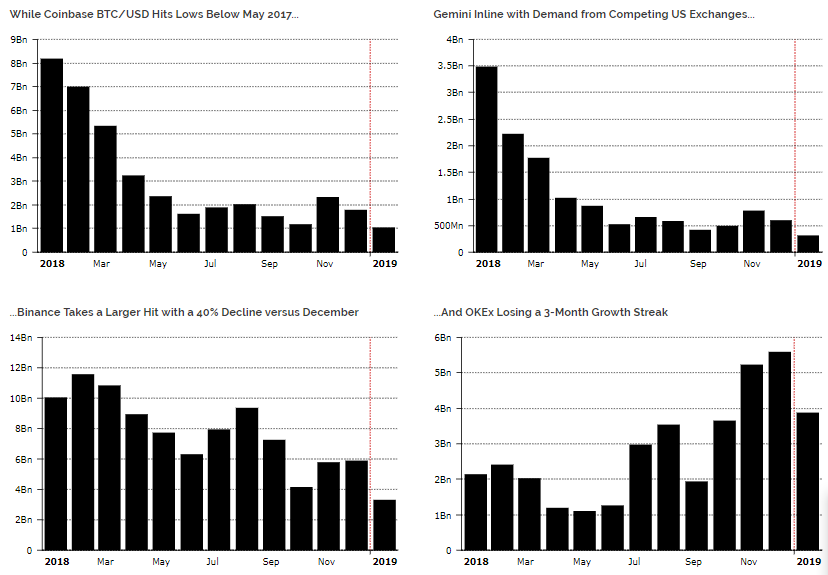 Bitcoins lack of volatility could easily be attributed to the lack of trading taking place on exchanges. Bitcoin has seen its all time high of $20,000 continually decline over the course of 2018, down to the $3,400.
The lack of volume and liquidity has seen several exchanges shut down already, including CoinPulse, and Liqui exchange. If 2019 continues in the bear market, we could easily be seeing more exchanges shutting their doors.
Read More: Liqui.io "first big victim of insolvency problem" - will more exchanges shut down?
Want to receive the latest Chepicap news in your Blockfolio app? Help us to get listed by upvoting here! A big thank you from Team Chepi!