Bitcoiin up over 200% before dropping 50%, what's going on?
Bitcoiin, yes two i's, not to be confused with the number one cryptocurrency Bitcoin, had a successful very bullish day, resulting in a Bitcoiin price of over $1.20, only to see the house of cards come thumbling down, and endure a correction of more than 50%.
Very few people have ever heard about Bitcoiin.
It might have seen some exposure, back in the day, when actor Steven Seagal made headlines in 2018 when he endorsed the 'Bitcoiin' cryptocurrency, but ever since Seagal and the founders of bitcoiin exited the project, not much has been seen or heard about it.
Until recently that is, when its price jumped through the roof, showing massive gains of more that 200%, which resulted in a price pump from around $0.28 to an impressive $1.27 price point.
That by itself should be enough proof that this is a classic pump and dump first and foremost, primarily because all of this was happening with just $2.77m in trading volume.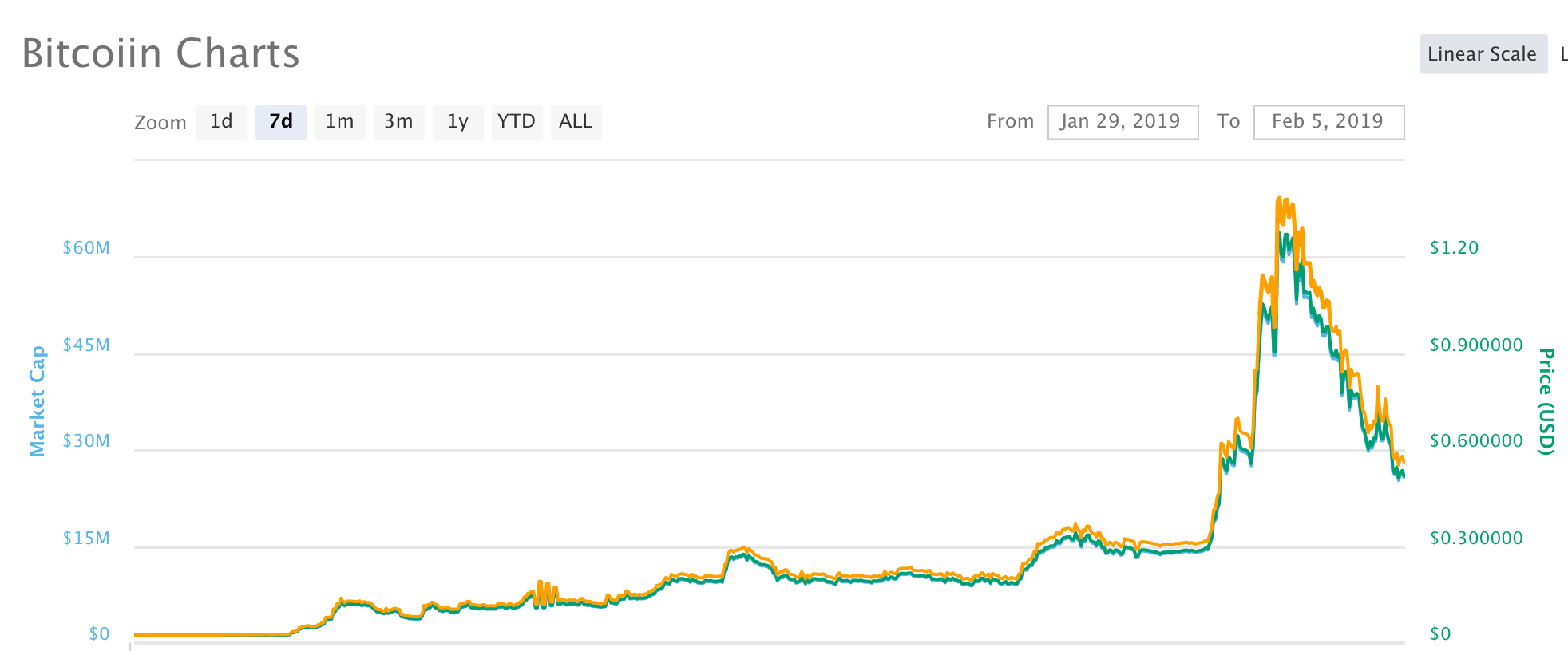 Read more: Much of market is sideways but some coins are standing out
However, the team behind the bitcoiin project confirms there are major partnerships being formed and mobile wallets to be released, which according to them, could be the reason why the coin showed such success on the charts today.
B2G has entered CoinMarketCap's top 100 coins! We have secured partnerships with some of the biggest exchanges, payment processors and mobile wallets which will be announced in the following days. Next stop - top 50!#b2g #bitcoin #ethereum #crypto #blockchain #cryptocurrency pic.twitter.com/AUDGnOJPuo

— Bitcoiin2Gen (@bitcoiin2gen) February 4, 2019
Their tweet might have been a tad overly confident, as bitcoiin already fell out of the top 100 according to coinmarketcap.com, plus it remains to be seen if they can actually deliver on those partnerships.
Bitcoiin saw a major correction today of more than 50%, bringing the price back down to $0.54, with a total marketcap of $27 million.

Read more: 5 conclusions of the QuadrigaCX hearing
Want to receive the latest Chepicap news in your Blockfolio app? Help us to get listed by upvoting here! A big thank you from Team Chepi!
Follow Chepicap now on Twitter, YouTube, Telegram and Facebook!