The hype of BTT: will this 10x growth hold overtime?
Not even 7 days have passed since the BitTorrent Token (BTT) became available for trading, but it has already proven to be an utmost successful ICO. However, concerns are being sparked as well by what certain voices are starting to dub as an exceedingly successful project.
Want to receive the latest Chepicap news in your Blockfolio app? Help us to get listed by upvoting here! A big thank you from Team Chepi!
BTT launch was already most promising, with the public sale on the Binance Launchpad running out of supply before 15 minutes of being opened, as 60 billion BTT tokens sold out for a total of around $7.2 million. That amount only represents 6% of the total supply of BTT tokens, and they were sold for $0.00012 a piece, meanwhile at writing time the price on Binance was of $0.00115.
Although the current market cap of BTT is still unclear per most sources, Twitter user @MoonOverlord commented on how the purchase of BitTorrent and later BTT launch has been a great business so far for Justin Sun, with the ongoing pump to thank for:
Justin Sun bought BitTorrent for $140 million.

*Launched $BTT (BitTorrent token)*$BTT's marketcap is now over 150 million (and he still owns BitTorrent).

Well played.

— Moon Overlord (@MoonOverlord) 5 de febrero de 2019
Other opinions from crypto Twitter include criticism towards BTT, TRON and even Binance, coming from different perspectives, such as this piece of mind from Peter McCormack:
The BitTorrent token is utterly stupid:
- Nobody will buy a token to increase the speed of downloads on BitTorrent
- Even if they want to it is a usability nightmare
- Justin Sun should not be trusted
- Nice Pump for Binance while volumes are down

This won't end well.

— Peter McCormack (@PeterMcCormack) February 5, 2019
Other CT users were wary of the potential behind BTT (specially in case some investors had been using credit to jump into the project):
I just hope all this $BTT isn't being paid for with credit

— ⛏Crypto Christopher Walken⛏ (@cryptochrisw) February 5, 2019
Even though the idea behind the tokenization of BitTorrent has attracted many investors this far, the hype surrounding BTT could last little in case the successive BTT and TRX airdrops and token sales planned ahead on their schedule don't end up with satisfactory results: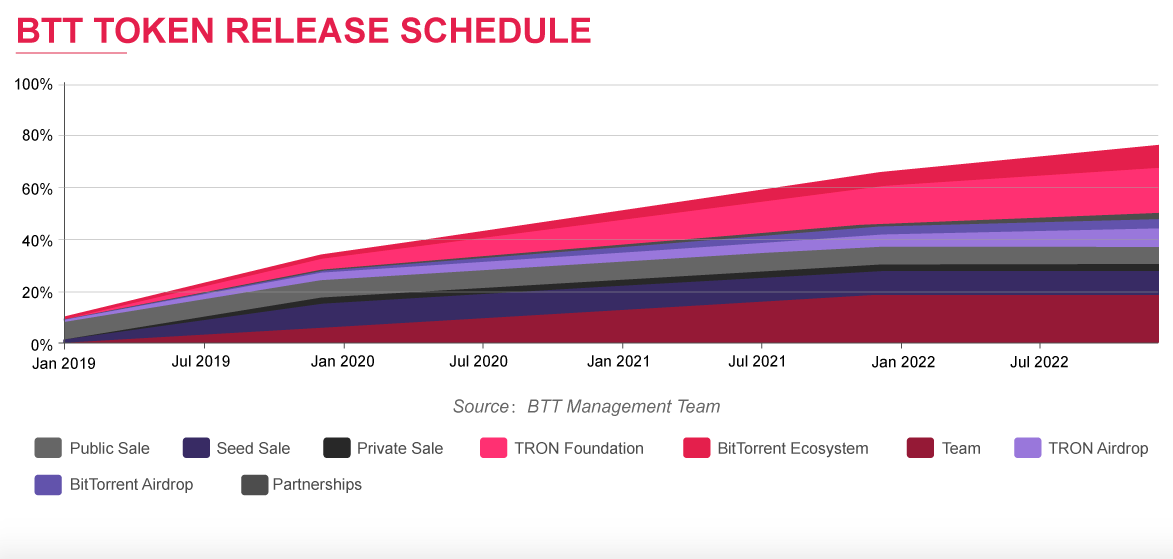 From here to 2025, there are loads of BTT tokens left to be distributed around. Specifically, the total supply is 990 billion tokens, and only 6% of the tokens have already been distributed. If price was to stay anchored to the current $ 0.0011 per token, that by itself would make BTT the 10th most popular token according to market cap when the release was complete, trespassing the billion dollars mark and leaving behind the likes of Bitcoin SV (BSV), Cardano (ADA) or even Binance Coin (BNB) itself.
Read more: BitTorrent (BTT) continues to pump, up 56% today, 10x from ICO price; BTT up 50% in 24 hours, and up 500% since ICO; did this cause the TRX pump?
Follow Chepicap now on Twitter, YouTube, Telegram and Facebook!