Presidential candidate Tulsi Gabbard is holding Ethereum, Litecoin
Representative of Hawaii,Tulsi Gabbard, just recently officially announced her bid for president of the United States. This move may make crypto fans happy because as Chepicap previously reported, Gabbard revealed on a financial disclosure report that she purchased Ethereum and Litecoin in late 2017.
Gabbard had already been a hopeful for running and it was likely just a matter of time before she made it official. She will be against another famous crypto advocate, John McAfee, who also happens to currently be on the run from the US government.
Read more: The pro-crypto, anti-bank 2020 candidate giving John McAfee a run for his money
Gabbard is one of the few people in government who has officially disclosed that she has purchased cryptocurrency, which is an optimistic precursor for her to have a pro-crypto stance.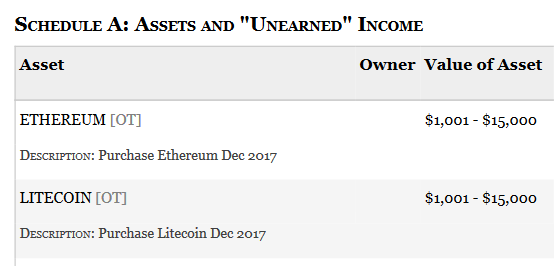 With any luck whoever wins the 2020 election in the US, they will be for reasonable regulations on cryptocurrency. If it's Gabbard, at least we know she can handle a crypto winter!
Follow Chepicap now on Twitter, YouTube, Telegram and Facebook!