BTT up 50% in 24 hours, and up 500% since ICO; did this cause the TRX pump?
Following the recent influx of listings for the incipient token, BitTorrent (BTT), is taking off. BTT is currently up over 500% since the token sale and has gained 50% in the past hour. Meanwhile, its quasi-sibling token, TRON (TRX), has also cited a similar increase rising a monumental 50% in just 15 minutes… Are these instances connected?
The recent BitTorrent token sale saw the new BTT tokens fly off the shelf in a mere 18 minutes; leaving some investors unable to grab any bags whatsoever. A grand total of $7 million was raised in that time.
Read more: BitTorrent (BTT) ICO raises $7 million in under 20 minutes;
At the time of the ICO, BTT was worth $0.00012. The token now sits at a price point of $0.000721; a huge gain of approximately 500% in less than a week.
This increase came as no surprise after a numerous amount of exchanges listed the token.
Prominent exchanges who listed BTT include Binance, Upbit, OKEx, and KuCoin to name just a few.
TRX pumps & dumps
Today, TRX witnessed something completely out of the ordinary, when short positions got liquated in the space of 20 minutes after the cryptocurrency pumped 50% on BitMEX.
Read more: Why is TRON pumping? Up 50% on BitMEX, liquidates everything in its path
This was shortly followed by a huge dump, which took out many long positions. Leaving many traders scratching their heads as to what happened…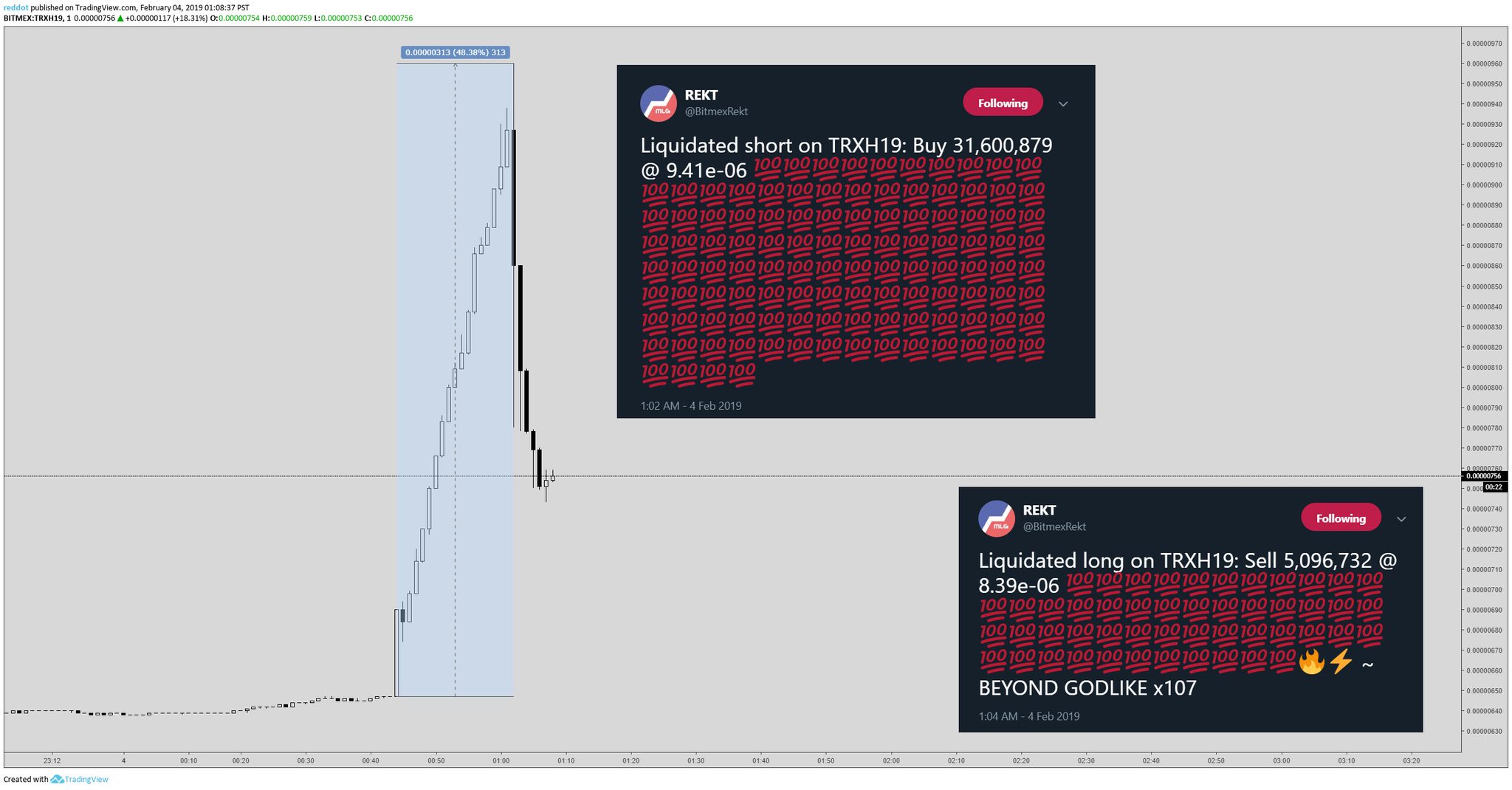 Shorts Liquidated
Longs Liquidated
Everyone's liquidated$TRX #TRON pic.twitter.com/0S6ixnbxCx

— Satoshi Wolf 🐺 (@SatoshiWolf) February 4, 2019
Some believe this meteoric rise from BTT has contributed to the TRX pump, with one saying that it was a result of people selling BTT and buying back into TRX:
Sell $btt scam coin at ATH and pump $trx. 👍💪😅

— rgrpark (@rgrpark) February 4, 2019
However, it may be more simple than that, and perhaps an example of TRON's impressive marketing at work.
BTT and TRX were always meant to be linked, this is clear from the BTT airdrops for all TRX holders, an incentivization effort from BitTorrent and TRON to encourage holders of TRX and the newly minted BTT token.
Therefore, it's fair to assume that a rise from BTT would result in a coinciding rise from TRX, with the market speculating on the future price of BTT airdrops.
The subsequent dump most likely emanated from a panic sale after traders started jumping ship at a decent price.
Read more: In one day of trading, BTT is up 4.18x in USD and 4.23x in BTC

Follow Chepicap now on Twitter, YouTube, Telegram and Facebook!
Want to receive the latest Chepicap news in your Blockfolio app? Help us to get listed by upvoting here! A big thank you from Team Chepi!