Why is TRON pumping? Up 50% on BitMEX, liquidates everything in its path
Twitter is going crazy over the recent pump from TRON (TRX) on Bitmex which saw TRX fly up by around 48% in around 15 minutes before crashing right back down liquidating both long and short positions.
Want to receive the latest Chepicap news in your Blockfolio app? Help us to get listed by upvoting here! A big thank you from Team Chepi!
Right now users on Twitter are in a state of confusion, not quite sure what to think after the pump and subsequent dump of TRX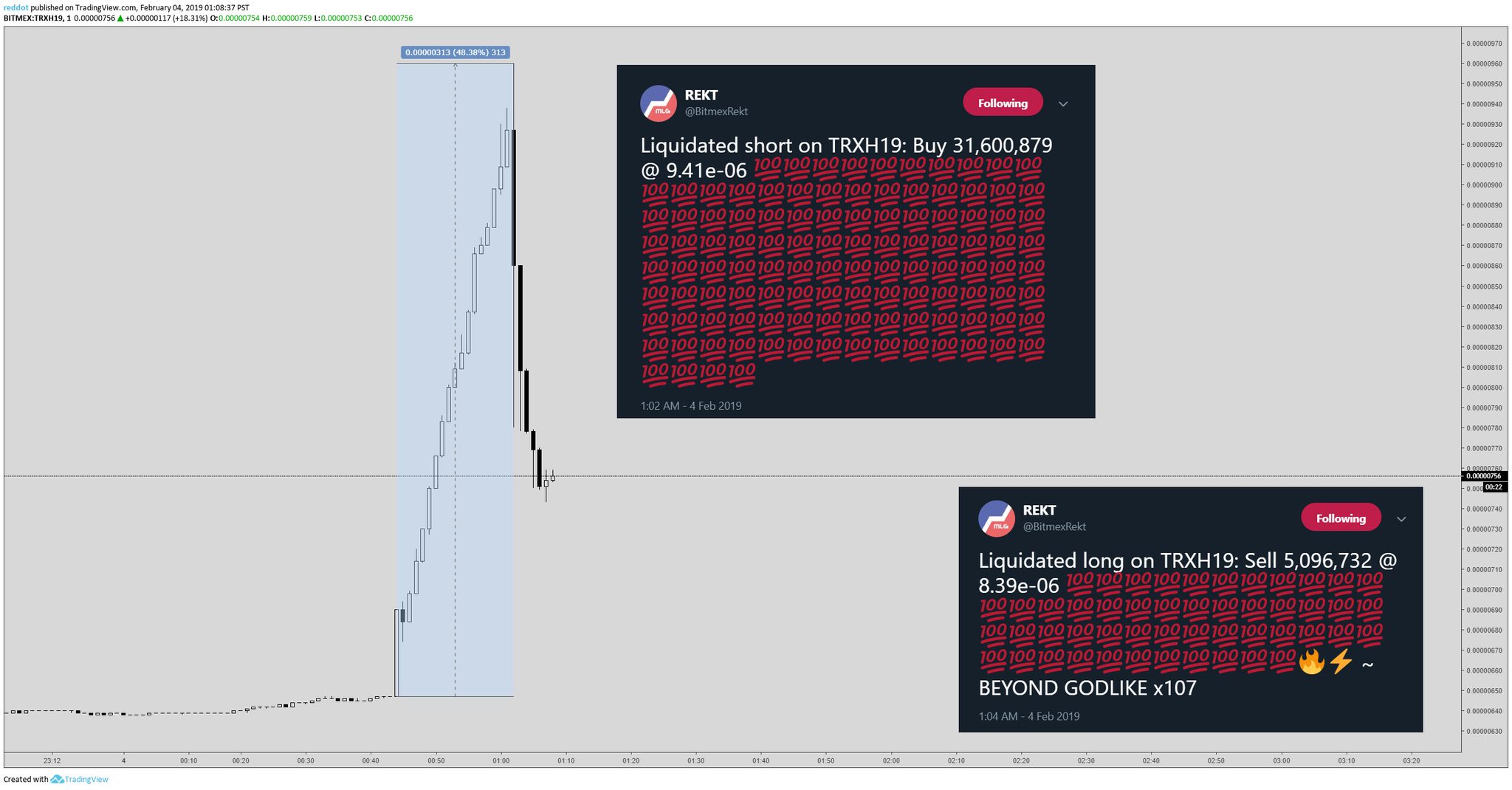 One user stated that the the rise and quick correction cause 100 million TRX to get liquidated on BitMEX:
And indeed it was funny, up 40% in the hour and the wall is still there.
Thoughts and prayers for everyone that was short TRX on Mex.

— DonAlt (@CryptoDonAlt) February 4, 2019
Others took to Twitter to call out their liquidated positions:
Liquidated short on TRXH19: Buy 33,400,149 @ 6.61e-06 🏅🏆💯💯💯💯💯💯💯💯💯💯💯💯💯💯💯💯💯💯💯💯💯💯💯💯💯💯💯💯💯💯💯💯💯💯💯💯💯💯💯💯💯💯💯💯💯💯💯💯💯💯💯💯💯💯💯💯💯💯💯💯💯💯💯💯💯💯💯💯💯💯💯💯💯💯💯💯💯💯💯💯💯💯💯💯💯💯💯💯💯💯💯💯💯💯💯💯💯💯💯💯💯💯💯💯💯💯💯💯💯💯

— REKT (@BitmexRekt) February 4, 2019
justin pump sun tron $trx pic.twitter.com/3dh9yrvLkT

— red (@redxbt) February 4, 2019
Shorts Liquidated
Longs Liquidated
Everyone's liquidated$TRX #TRON pic.twitter.com/0S6ixnbxCx

— Satoshi Wolf 🐺 (@SatoshiWolf) February 4, 2019
A short story.. pic.twitter.com/bAFyev5hxe

— 🄾🄲🄶 (@oldcryptogeek) February 4, 2019
A few took shots at Justin Sun, blaming him (and Chinese new year) for the pump…
Chinese crypto legend @justinsuntron pumps his Chinese shitcoin on Chinese New Year.

Imagine thinking the SEC were going to approve anything in this market anytime soon. Happy fucking new year $TRX bears :) pic.twitter.com/8XlXXnomf3

— $carface (@TraderScarface) February 4, 2019
Its possible that this pump may have something to do with the recent BTT token sale. One user posited that the sale of BTT back into TRX caused the pump:
Sell $btt scam coin at ATH and pump $trx. 👍💪😅

— rgrpark (@rgrpark) February 4, 2019
One blamed a whale:
100mio Whale play with TRX on Mex, happy pumping Day🤟😆 pic.twitter.com/Pq3475rEWF

— Sn@tch (@handelsrausch) February 4, 2019
Others believe that the pump was caused by a short squeeze:
$TRX talk about a short squeeze 👀 #trx #tron pic.twitter.com/DtNSuAowfQ

— 👉 Direct Crypto Signals 👈 (@direct_crypto) February 4, 2019
A short squeeze is a swift increase in the price of an asset, occurring when there is a lack of supply and an excess of demand for the said asset. When a heavily shorted asset rapidly moves higher, the upwards movement causes the closing of similarly shorted positions, causing a domino effect which pushing the price even higher.
what do you think caused TRX to pump and dump? Let us know in the comments!
More information to follow
Follow Chepicap now on Twitter, YouTube, Telegram and Facebook!