This week's bad news for exchanges has been terrible for crypto
With hacks, bankruptcy, phishing attacks, and the 'loss' of millions of dollars worth of crypto- this week has been bad for exchanges. In turn, this seems to have seriously damaged the reputation of crypto in general. If crypto is to grow as an asset, exchanges will have to improve security, access, and reliability.

The disastrous and seemingly unending hack which devastated New Zealand exchange Cryptopia was only the first in a series of bad news coming from various crypto exchanges the past week, with Canadian exchange QuadrigaCX 'losing' about $190 Million worth of crypto following the death of a founder and the subsequent loss of access to a private key, as well as the sudden and unexpected insolvency of Coinpulse. Not to mention, rumors of potential trouble for a competing Canadian exchange CoinSquare, who laid off 40 of its employees in one day, indicating at the very least internal turmoil.
The especially bad week for crypto exchanges leaves no winners, with the reputation of exchanges in general taking a significant hit following each blunder. According to Coinmarketcap, most exchanges are in the red, with exchange volume dropping by as much as 20-30% in the last 24 hours in the case of leading exchanges Binance, Okex, and Digifinex, none of whom have had any direct controversy themselves.

The problems with QuadrigaCX in particular have drawn criticism from crypto luminaries, including CZ who criticized the notion that a founder should have singular access to a private key, and Pomp, who noted that the continued loss of BTC in the supply can only lead to scarcity taking effect sooner.
Earlier this week a crypto exchange revealed that they are unable to access ~26,500 Bitcoin that were in their possession.

That means there are 26,500 less BTC available of the 21M total created.

Eventually everyone will understand scarcity.

Don't be one of the last ones.

— Pomp 🌪 (@APompliano) February 2, 2019

The alternative model of Decentralized Exchanges (DEXs), which many point to as a solution to a number of problems with the centralized exchanges, is not taking off. The use of DEXs hit an all time low last month, with no signs of an immediate correction. Even OTC crypto trading leader LocalBitcoin was hit by a major phishing attack about a week ago, as previously reported.
Since that time, crypto's global market cap has declined by about $5 Billion, and the 24 hour volume has decreased by about $3 Billion. Throughout the week, most of the top 100 cryptocurrencies have seen notable depreciation, with BSV, Stellar, and Tron down over 10% over the past 7 days.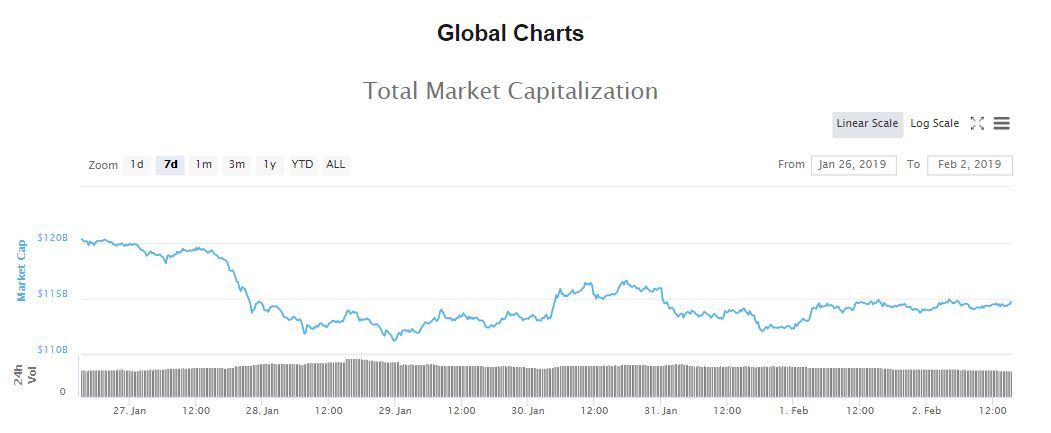 Despite crypto seeing significant legal victories recently and a noticeable push towards mainstream acceptance, the security of exchanges is proving to be intensely problematic.
Read more: Changpeng Zhao, about QuadrigaCX: never have CEO carry private keys, Court rules on behalf of BitGrail users, exchange must return funds, Liqui.io exchange - why did it have to shut down?
Follow Chepicap now on Twitter, YouTube, Telegram and Facebook!