EOS and TRON are taking over ETH gambling dapps in traffic and volume
According to the latest issue from cryptocurrency newsletter Diar, there are large movements going on in the gambling dapps space.
Betting and gambling dapps, which constitute the second category with most decentralized applications after games, have been migrating lately to the TRON and EOS blockchains, in detriment of Ethereum.
Read more: TRONbet dapp breaks over 1 billion in daily volume, over 1 million transactions
Recent data gathered in the Diar newsletter show how the number of active users in the dapps of the kind have been dwindling in the Ethereum blockchain since EOS started gaining traction in July 2018. It has to be taken into account that the chart footnote (mentioned in the title) reads as follows: Gambling is inherently high-volume trading. Data reflects total unique addresses used per day - not necessarily unique user total.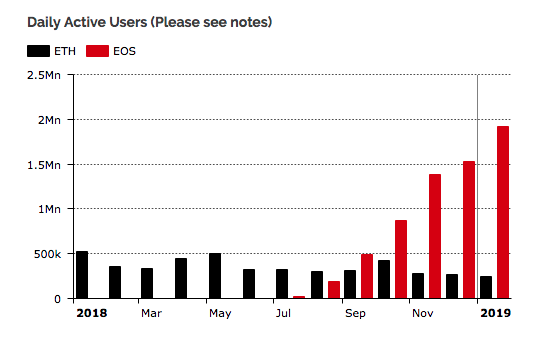 The limitations of the metric are common to most attempts at accounting for blockchain users, although they do provide a sound estimation. Diar published a tweet later this week in response to comments from readers regarding this issue:
We've received many comments regarding Daily Active Users (DAU) on EOS Dapps re our latest issue. DAU, effectively unique addresses, will be a case of much daily overlap. However, the trend is still clear. Chart: EOS Dapps DAU

cc: @cburniske @coinmetrics pic.twitter.com/Xz3ykboPUV

— Diar (@DiarNewsletter) January 30, 2019
Another metric studied reflected the volume traded in dapps running on each of the Ethereum, EOS and TRON blockchains, showing the decline of ETH coinciding with the entry of EOS in the space, and a further loss starting since September and still ongoing, as TRON seems to be taking users both from EOS and from ETH:
The global picture of the distribution of dapps by category on the different tokens shows the overall importance of this sector for decentralized apps: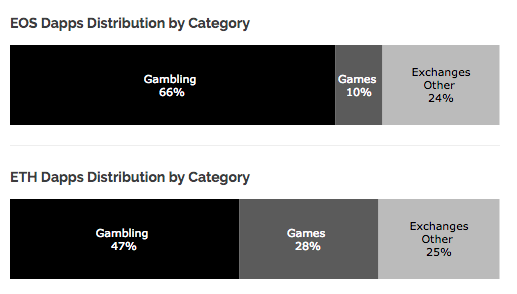 Read more: Are TRON and EOS dApps really making Ethereum obsolete?; Does anyone care about dApps? Around 17 percent are abandoned, according to study


Follow Chepicap now on Twitter, YouTube, Telegram and Facebook!