NEM (XEM) price takes a dive, down 6% following near-bankruptcy
In a bid to remain transparent, the NEM foundation recently announced a reshuffle of their plans due to a "catastrophic drop" in the NEM (XEM) exchange rate.
Unfortunately, this attempt at transparency hasn't done any good to the price of XEM, dropping 6% down to a price of $0.044, since the news broke: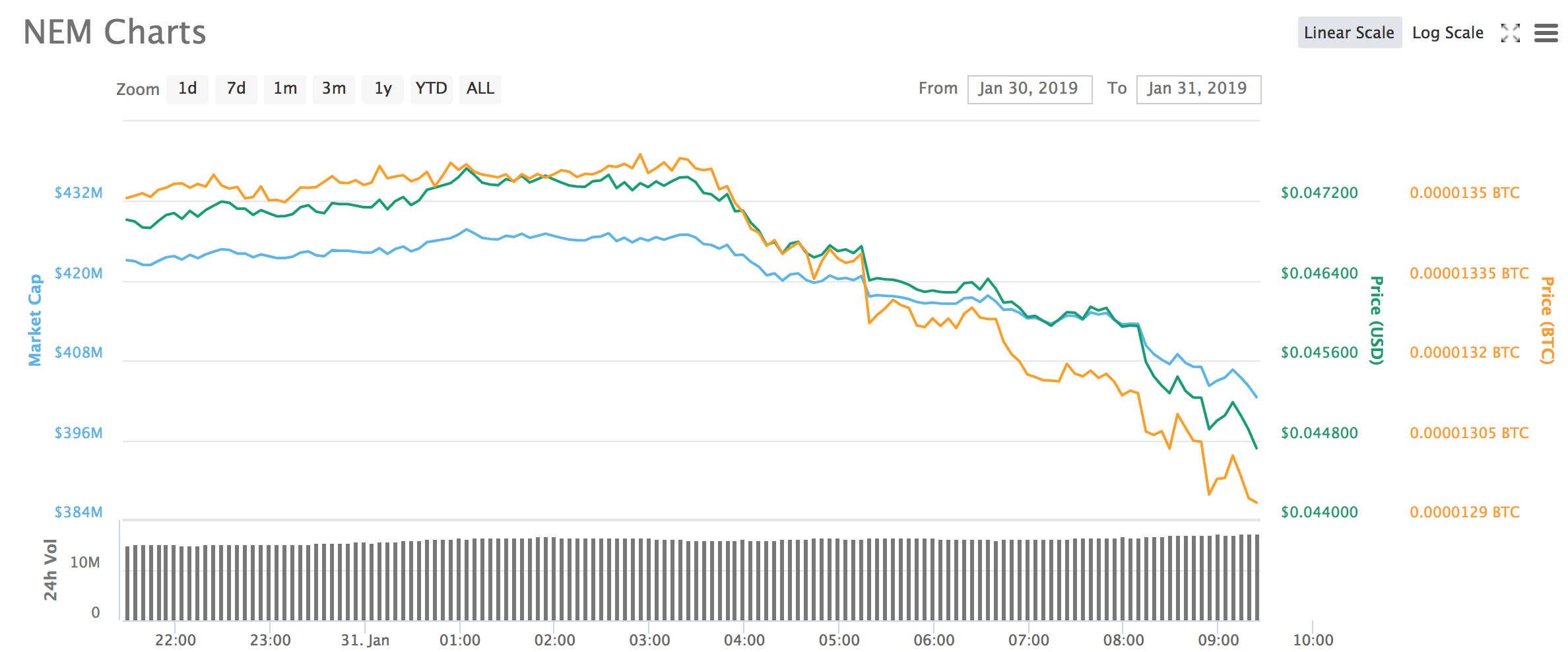 The "catastrophic drop" mentioned by the NEM foundation is more explicitly a 97% crash from its all-time high of $2.03 back in January 2018.
The foundation recently told its community that following a refocus and with bankruptcy on the horizon, layoffs would be expected.
Upholding their promise of transparency, the foundation revealed the particularities of their failings, detailing a lack of "accountability":
"We saw very little accountability for funds and questionable ROI, leading to a burn rate of 9 million XEM per month. In terms of running an effective organization, the existing structure failed. Maybe that didn't seem like a big problem when the XEM price was high, but it's a very big problem as we seek to sustain a viable organization in the 'Crypto Winter.'"
The community responds
Following the news, Crypto twitter reacted in various ways...
Some appreciated the transparency:
Great to be upfront. Looking forward to the future.

— Mat Grundy (@MatGrundy) January 31, 2019
Others tried to decipher which way things would go:
Bounce now, or ded with the new lows, #XEM #NEM pic.twitter.com/ePPlG0wGsd

— Muhammad Fikri (@mufimf) January 31, 2019
Hopefully they can turn things around these guys have a great project would hate to see their wonderful work suffer.

— Kutaki (@Hashpowa) January 31, 2019
Was just talking to @Crypto_C00kie how we didnt see why $xem had stayed a top 10 coin for so long...

Doesn't look like it will be that way for much longer unfortunately... RIPhttps://t.co/hfyMUreeMv$btc #bitcoin #crypto

— KiwiCrypto (@jono_t2000) January 31, 2019
A few were saddened:
This is quite sad, as NEM is actually one of the few solid projects in crypto. I would expect to see more stories such as this one.

— xrp_news ⚡ (@xrp_news) January 31, 2019
Sad for those involved and for the truly ethical chains with something worth offering. Crypto reality setting in. Over crowded space, I'm sure there are more in similar situation. All the best @NEMofficial

— silver surfer (@silverlanche) January 31, 2019
And some speculated that this may be a shake out:
The trend is obvious: ShapeShift, Bitmain, ConsenSys and others..
The same will happen with alternative blockchains like NEM - there is no need of so many of those on the market - only the strongest survive.

— Dominikas Shpota (@one8tyFive) January 31, 2019
Waiting to see more projects go down this road. Big difference between building tech and building a business.

— TomMi (@tommidummi) January 31, 2019
The Bear Market is shaking out the weak projects....

— Steroid Crypto Mouse (@SteroidMouse) January 31, 2019
However, this isn't quite the end for NEM, who have put together a new plan going forward. Heres hoping this wake-up call does the trick, and the team can get the project back on track.
(all prices correct at the time of writing)
Read more: NEM refocuses strategic plan with one month of funding left, layoffs expected

Follow Chepicap now on Twitter, YouTube, Telegram and Facebook!