SIM Swapping, 'Crypto Dusting': trends to watch for as crypto theft spikes 300%
According to a report on the state of money laundering and crypto from analytics firm Ciphertrace, the amount of money stolen alone through scams and theft increased by 300% over the last year to about $1.7 Billion. Notably this figure doesn't account for individual account scams, which are hard to account for, but phony ICOs, exit scams, exchange hacks. Hackers accounted for over $900 Million of this figure.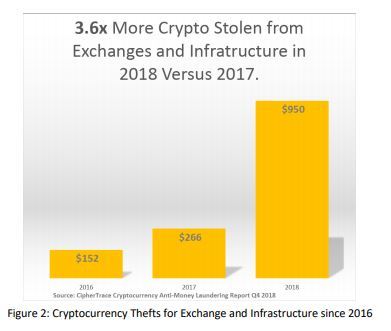 The report specified a number of growing concerns over new tactics and vulnerabilities which are plaguing crypto. For example, SIM swapping techniques have become increasingly popular as a means of attack. A SIM swapping attack takes advantage of two-factor authentication measures, which normally confirm a user's identity using their phone. If a hacker can port a user's phone number into their own device, they can receive an SMS message intend to confirm the identity of the user and change their password, gaining access to their account, potentially to their crypto wallets.
Large cryptocurrency investors are targeted specifically, or data dumps can make phone numbers available for purchase off the dark web. While SIM swapping can potentially target any digital funds, hackers have been prone to steal cryptocurrency because of the greater ease with which funds can be made off with without detection.
After a portfolio founder's sim got stolen, mine got hacked too - sim swap has become so easy targeting crypto player@ATT @TMobile to be blame 🤬they are the few carriers on earth allow sim swap without in person KYC. Such policy shouldn't exist at all https://t.co/sH6hJWjqKa

— Dovey Wan 🦖 (@DoveyWan) January 27, 2019
Another new trend which CipherTrace's report brings alert to is 'crypto dusting,' invented by the (self-described) worlds only legal crypto tumbler offering '"blockchain analysis resistant coins,' BestMixer. BestMixer began sending small amounts of LiteCoin, BitcoinCash, and Bitcoin to arbitrary wallets, ostensibly as a kind of promotional move. CipherTrace argues that in actuality, their motivations are to obscure who is actually using their service, 'tainting' the users who received the coins, and confusing blockchain analytics services.
06/26/18 We have completed a 'step-by-step' video tutorial on how BestMixer works and how to use it.
This video is available in 11 languages: https://t.co/Z7uNTUKmsl#bitcoinmixer #bitcointumbler #bitcoinshuffle #bitcoinblender #bitcoinlaundry #bestmixer

— BestMixer.IO (@BestMixerIO) November 18, 2018
Based in Curacao, which is a money-laundering capital according to the US Department of state, BestMixer is likely the first of many to offer services which try to spoof blockchain analytics like Coinalysis, who are increasingly sought out from agencies in the US government and others to try to sniff out the illicit use of cryptocurrency.
Read more: Canadian crypto exchange QuadrigaCX goes offline, Reddit screams 'Exit Scam'
Follow Chepicap now on Twitter, YouTube, Telegram and Facebook!