Decentralized exchanges hit an all time low this last month
Decentralized exchanges (DEX) may have their supporters, but they have yet to attract many users. DEX use is at an all time low in terms of transactions, and unique user addresses are plummeting as well.
According to Diar, transactions have seen an all time low over the past month at $49 Million (down from a $1.5 Billion) high back in May of last year in terms of USD. This is even lower than the first month that usable DEXs appeared online in June of 2017, indicating that whatever early user hype they had has backtracked, and fewer and fewer people are using them.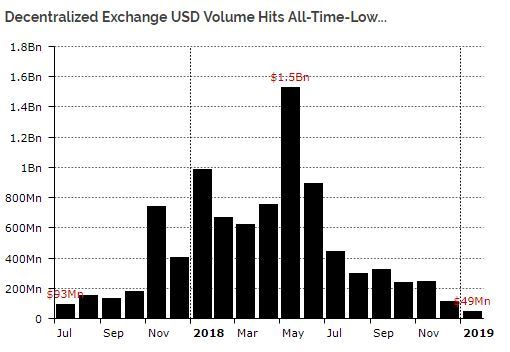 This doesn't match many commentators, many of whom have put stock in the DEX model as the wave of the future, including the CEO of Binance, CZ.
Decentralized exchanges are attractive to those who see them as a solution to many of the problems built into centralized exchanges, but without users or volume the DEX model is untenable. Without liquidity a DEX is unusable, and without use a DEX has no liquidity. Whatever future DEXs have for crypto, they will need to attract more users.
While many crypto enthusiasts prefer DEXs for their decentralization and potential benefits, most crypto traders don't have the same enthusiasm for these factors. Most crypto traders will gravitate towards the most popular, convenient, and above all, proven crypto exchange platforms. This doesn't mean that a DEX cannot compete with centralized exchanges, but it does mean that they will have to attract users on UX and feature merits as well.
Read more: Emin Gun Sirer: DEXs can be more trustworthy than Wall Street
Follow Chepicap now on Twitter, YouTube, Telegram and Facebook!