NEO community panics after 'unintentional fork'
Serious problems appeared to be affecting the NEO network earlier today, as no block activity was shown for 8 hours on the main block explorers. This was apparently due to issues with the block explorers themselves, but it was enough to cause panic amongst many members of the community.
The issue was first reported by NEO-based exchange Switcheo, via its Telegram channel. At block 3,293,299, nodes on the NEO network appeared to stop operating. Switcheo reported that an 'unintentional fork' of the blockchain had taken place, and advised users to switch to this new fork, insisting that these issues did "not carry additional risks to the safety of the funds of users in their wallets; however, certain types of errors may occur during the transfer".
A later update clarified that the network was producing blocks as normal. Redditors claimed that the 'unintentional fork' may have simply been a result of the main NEO block explorers not updating their data properly. Issues with NEOtracker and NEOscan led them to go out-of-sync with the network itself, suggesting that no blocks had been produced for over 8 hours.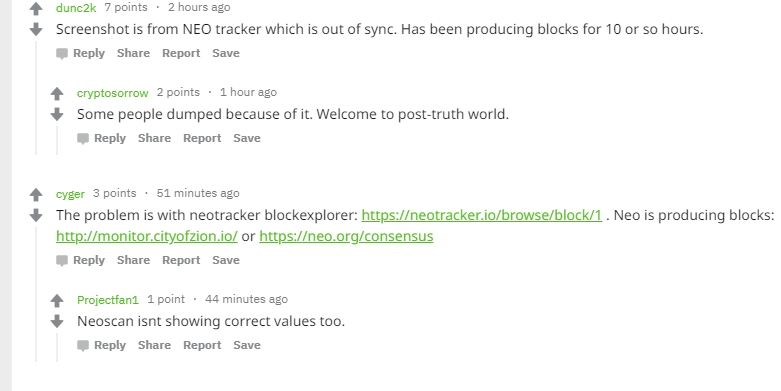 With some confusing information put out from various sources, those who didn't dig deep enough into the issue were led to believe that a serious problem had affected the NEO network. Many observers on Twitter took the opportunity to criticize NEO and crypto itself, in the wake of this apparent problem.
$NEO hasn't produced a new block for the last 12 hours and the coin is only down 2% for a glorious market cap of half a billion dollars.
I guess blockchain is revolutionary indeed.

— Trolly McTrollface (@Tr0llyTr0llFace) January 29, 2019
No one's using NEO so nothing to put in a block 🤣

— Shinda (@FloatingBaba) January 29, 2019
Read more: What could make Bitcoin go mainstream again?

Follow Chepicap now on Twitter, YouTube, Telegram and Facebook!