Ripple makes 2 massive transfers today, one to Bitstamp, one to mystery wallet
Ripple moved a considerable amount of XRP around today in two transactions totalling over 850 million XRP. One was to Bitstamp, a major exchange which trades in XRP amongst other coins, and the other was to an unknown address, though presumably for a form of escrow.
🚨 🚨 🚨 🚨 🚨 🚨 🚨 🚨 🚨 🚨 463,420,929 #XRP (136,324,998 USD) transferred from Ripple to Bitstamp

Tx: https://t.co/kuO9egPDtt

— Whale Alert (@whale_alert) January 28, 2019
In all likelyhood this is simply in order to add liquidity to the Bitstamp market and shouldn't be seen as suspicious. The transaction can be seen on an XRP block explorer: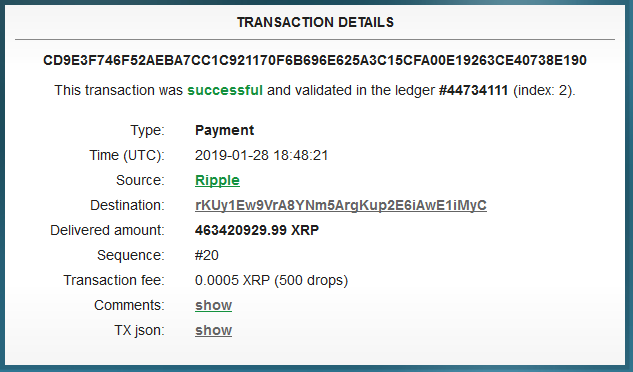 The second transaction is smaller, but in this case the owner of the address is unknown: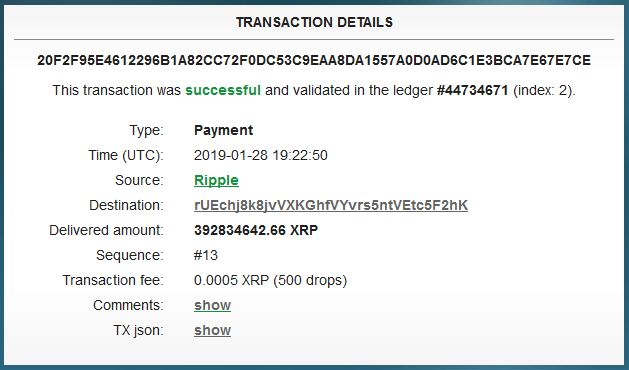 It is more than likely this is an intended excrow address that Ripple controls. Nonetheless, it is interesting to note the company is moving money around, though this type of activity is hardly unprecedented.
If anything else develops, be sire that Chepicap will be right here to cover it!
Follow Chepicap now on Twitter, YouTube, Telegram and Facebook!