The story of a widely discussed 'takeover': Libereum not buying Elche anytime soon
In the early days of football, clubs were managed by the same guys who kicked the ball every Sunday. With the growth in popularity came professionalization, and local tychoons who wanted to give back to the community started jumping in the incipient business. Later, globalization brought the Middle Eastern, Russian and Asian capitals a chance to participate in the most renowned leagues of the world's favourite sport. Those who can afford it have not let it pass, with the corresponding public projection attached.

Now, cryptocurrencies are coming to football. Or at least Libereum, the Dutch company behind LIBER, an ERC-20 token currently on ICO and pre-sale stage, wants investors to believe so.
Libereum aims at making history as the first cryptocurrency-backed firm buying a football club. Elche CF is the candidate, now competing in the second division of Spanish football, although the team spent two seasons on the top one, between 2013 and 2015. Back then the likes of Messi and Cristiano Ronaldo trodded on the grass of the 33,732 fitting Martínez Valero stadium.
Not everything is running smoothly on this attempt at linking cryptocurrencies and sports, unlike in other projects. Between Christmas and New Year, contradictory press releases from Elche and Libereum regarding the acquisition of the team sparked headlines on both directions, with local press mostly adhering to the version of the team and the majority of crypto media sticking with the company's statement.
Chepicap reported early on the situation, obtaining privileged access to several pages of a signed contract between the club and the company. Further investigation in collaboration with Algemeen Dagblad journalist Sander van Mersbergen led to more insights and proof about the current situation of the deal.
Paying with crypto for drinks in football stadiums?
The whitepaper of Libereum offers creative arguments as to how they intend to run their business. Even though they want to buy several football clubs "from all over the world […] with at least 10,000 fans attending each home game", Libereum does not aim at making an economic profit directly from running these clubs.
Profit will arise from cryptocurrency, hopefully, as LIBER demand is expected to come from its use as an in-stadium token for purchasing drinks, snacks, merchandise and game tickets. Further, the company's reserves of LIBER are also to be utilized as a means of exchange for anything related to the Libereum clubs, such as sponsorship deals or player transfers.
Another uncommon element of Libereum is its team, spearheaded by Cem Kumlar. Although they have undergone several staff changes since their start, there is a certain lack of sports and cryptocurrency experience among them, a point of view which has been exposed at length by two (1,2) anonymous Medium posts. They were published by two different users (both with no other publications but the Libereum analysis) and have many points of view in common and even similar writing structures, such as the initial disclaimer.
An unresponsive crypto exchange and a famous "lawyer"
Tokens are available for pre-sale (but not for trading) via two platforms: LAToken and Vendit. LAToken is a Cayman Islands-registered but mostly Russian-staffed cryptocurrency exchange, which has been completely unresponsive to repeated phone and email contact to enquire about the progress of the token sale. LAToken classifies rather poorly on recent crypto exchange security rankings: 78th out of 100 exchanges analysed by CER and Hacken, as reported by Chepicap.
Vendit is a smaller, U.S. based platform, halfway between an exchange and a crypto payments processor. Currently they only list two tokens: Liber and the Vendit tokens, which are being sold together for no additional cost. Chepicap spoke with Mike Hu, CEO and founder, which also appears listed as Integration Consultant in the Libereum team. Hu assured that Libereum contacted him to provide fiat and crypto compatible payment processing services. He also admitted that his only work for the company so far has been listing their token on his platform, that their ICO is currently running slow and that further collaboration from his part with the company is entirely dependent on Libereum announcing their first club acquisition.
However, there was a previous, privately run pre-sale of tokens. One that came with a polemic attached. As the following screenshot extracted from the Dutch Libereum Telegram chat group shows, LIBER investors were to deposit their funds on a UK bank account, on the name of Maria José Carrascosa Peñalver, who was acting as Libereum´s legal representative at the time.
Read more: Crypto exchange ad spotted during Manchester City vs. Liverpool game
According to accusations coming from Libereum, Carrascosa kept an undisclosed amount ranging between €700,000 and €800,000 from the raisings of the private token sale. The company also claims that the lawyer is not in possession of a valid license for practicing law in the country.
Carrascosa is quite well-known in Spain. She served almost nine out of 14 years of prison in the U.S. triggered by a legal dispute over her daughter´s custody with her U.S. born ex-husband. The media interest on the story grew as the date of her return to Spain was closing up, with a peak moment when local Oprah Winfrey equivalent Ana Rosa Quintana shed tears on morning prime-time TV.
Although the Valencian regional bar association lists her amongst their registered professionals, they mentioned via phone call to Chepicap that the information available on their database is self-reported by lawyers and unchecked by the institution. In Carrascosa´s LinkedIn profile it appears indicated that she is currently studying an LLM or Masters of Law, a necessary requirement for acting as lawyer in Spain and in the E.U.
Chepicap tried to get in touch with Maria José Carrascosa regarding these statements, but she blocked two different LinkedIn profiles after requesting her comments about the issue and did not replied to email nor phone contact attempts from our side.
Eventually Carrascosa Peñalver did reply to an email coming from Dutch newspaper AD. Little useful information can be extracted from her answers, where she mostly denies the acquisition of Elche CF by Libereum and states the right of her company to stop representation of a firm "when our services are not being paid or when the terms of representation and our contract is not respected or breached". Carrascosa also threatened with treating any further communication requests "as harassment and dealing with them accordingly".
Despite the setback with Carrascosa, which according to both the company and herself is currently in the hands of authorities, Libereum told to Chepicap that they have already found new legal representatives and supposedly still intend to take their plans forward. That is, if they can manage to buy a club.
The first of many Libereum football teams?
Elche CF has been portrayed as a kick-start that will precede the acquisition of several other clubs. Up to this date not a single purchase has been confirmed. During the summer of 2018, the Dutch club Roda JC denied the news spread by Libereum regarding its acquisition by the company. Just like with Elche CF, the target was a team from the second league of a European country, the story broke some headlines among sports and crypto media, and triggered quite some confusion as to what had really happened.
Roda JC representatives admit having communicated with Libereum in the context of a possible acquisition but apparently, they were not satisfied with the outcome of those initial contacts and rejected going any further.
Chasing hard for a club
It looks like Libereum did not gave up on their quest for a team, despite their first failure with Roda JC. Unbaffled by defeat, they embarked on the chase of a bigger, more complex fish: Elche CF, a club currently owned by the Valencian public finance entity (IVF, Spanish acronym for Valencian Institute of Finance) and a bunch of local businessmen grouped around José Sepulcre, former president of Elche between 2006 and 2015 who was arrested in June of 2018 and indicted for money laundering, among other charges, being acquitted of them a few months later. During his past tenure, an unrequitted loan from the IVF ended up with the entity stepping into partial ownership of the club.
The fist mentions to Elche CF appear on the Telegram group of the Dutch company as early as the 24th of August of 2018. A poll with 78 respondents agreed on the Spanish team as the next candidate for investigation: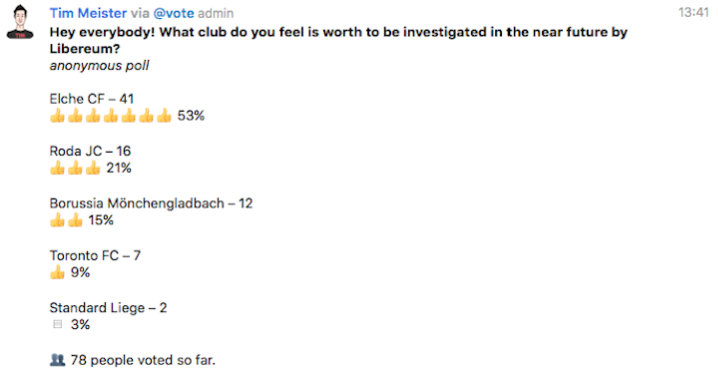 A contract which sold Elche before fully owning it
Chepicap has reviewed documental evidence showing that on the 21st of September of 2018, a contract was signed between Libereum and one of the main private shareholders of the team.
Two out of nine pages of the contract were reviewed, including the signatures of both parts, the object of the sale and also a condition establishing that the shares obtained from future capital increases would end up on Libereum´s hands, with the company obtaining around 64% of them. The authenticity of the contract stamp was confirmed to Chepicap in an email by the notary to which it belongs, although they declined to comment on other key points of the document adducing data protection laws.
Previous hints towards the acquisition of Elche CF came on the 18th of September, when the Spanish sport-related business news site Palco23 reported on an undisclosed buyer showing interest in acquiring the 54,7% stake of the club owned at that time by the IVF.
Marc Menchén, director of Palco23, assured on a phone conversation that many things have changed in the team´s situation since September. According to Menchén, the sale of Elche might no longer be a priority as much as it was back then for the Sepulcre-led group of investors.
The change in the shareholders attitude seems mostly due to a favorable local court ruling confirming the legality of the latest capital increase against the will of the IVF, which has announced that they will appeal against the verdict to a higher court, according to the regional press.
Pending what could become a lengthy legal process, the public regional bank has seen its position diluted, and José Sepulcre, together with other shareholders of his trust such as Antonio Rocamora, is going to end up owning more than 60% of Elche´s shares after a €17 million capital increase is completed on the 26th of February.
That percentage would enable the group of businessmen to fulfill the agreement previously signed with Libereum, but also gives them room for running the team themselves or even searching for a higher bid. Cem Kumlar, Libereum CEO, has admitted that although the original deal priced Elche at around €20 million, the market value of the club taking in account all assets is closer to €80 million.
Contradictory press releases, then silence
Even though court sentences from the last weeks were necessary to clarify the legal status of the club, Libereum did not wanted to wait that long. On the 26th of December they announced the purchase of Elche, but one day later the club published a press release on their website stating that they wanted to "STRONGLY DENY [sic] the sale of the Club to any company dedicated to cryptocurrency or to any other activity". Afterwards, several capital increases followed and the previously mentioned court rulings clarified the immediate future of Elche.
Now, neither the club, the company or the regional public bank want to give any more details about the acquisition, with only Libereum showing hopes that it will ever happen. Just like the landing of Eastern capitals on some European teams was not always a path of roses, it seems as if this first attempt at buying and running football clubs through cryptocurrency will serve as an example of what to avoid for the next ones to come.
Read more: Soccer club plays with Bitcoin logo after Sirin Labs CEO bought team; Did a crypto company just buy Spanish football club Elche?
Follow Chepicap now on Twitter, YouTube, Telegram and Facebook!