ADA drops almost 8%, while Yoroi Wallet for Cardano launches on android
Yoroi wallet took to Twitter today to announce the availablity for the new, lightweight-client wallet for Cardano on android, on a day where ADA dropped almost 8% during the past 24 hours.
According to the description on Google Play, Emurgo's Yoroi Cardano wallet is a lightweight wallet that launches quickly and allows users to start sending and receiving ADA within minutes.
⚡ Super good news! EMURGO's Yoroi Wallet now Android App Approved!⚡ Click to Here to download: https://t.co/lUyzFUAdtt

+ iOS coming soon! RT and Share

— Yoroi wallet/ヨロイウォレット (@YoroiWallet) January 28, 2019
'The Yoroi Android App is small and can be downloaded without using much bandwidth. Additionally, Yoroi is a light wallet, which means it does not require a full copy of the blockchain to be stored on the user's device. This means the bandwidth requirements for using the wallet are also low.'
Private keys of user wallets are only stored locally on the user's device, and this data is encrypted with a wallet password. Private keys are never stored on any centrally-hosted servers.
In order to make it easier to manage ADA, Yoroi supports four languages.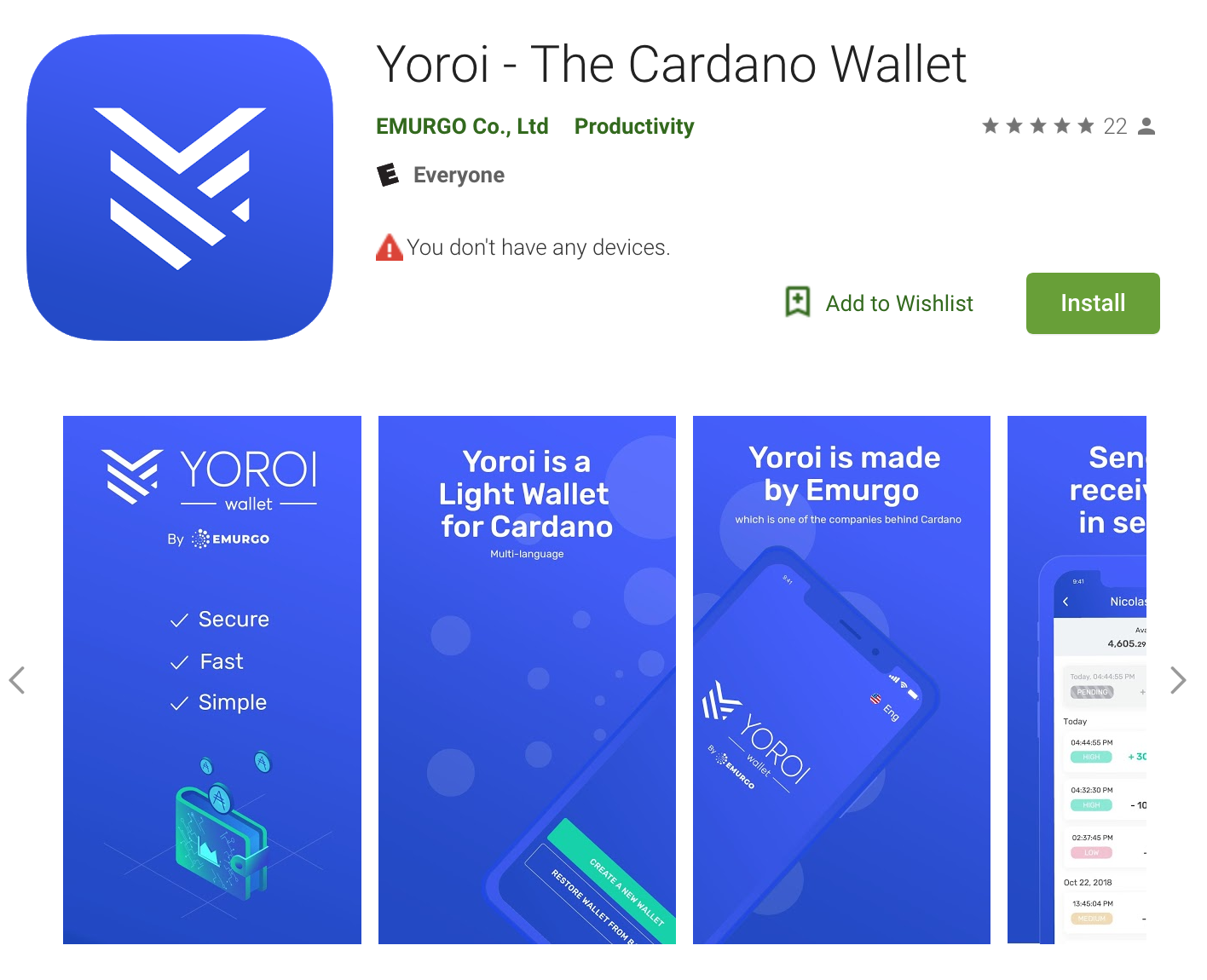 Read more: Charles Hoskinson says it could take 10+ years for crypto to regain 2017 high
Unfortunately for ADA, the announcement for the Yoroi wallet came on a day where Cardano dropped almost 7.5% in the past 24 hours, currently trading at $0.038, while sitting in the 11th spot with a market cap of under $1 billion.

From its all-time high at around $1.18 in early January 2018, Cardano is currently on a huge sale of 96%.
For Cardano investors this might be a great time to stock up on some extra ADA as one crypto enthusiast said he would do, in a reply to crypto trader Moon Overlord's 'ADA just fell off a cliff' tweet.
Thats good, I get to buy more on a bargain.

— 💵🚀Mindblower24🚀💵 Buy BTC & ADA 💶 (@Mindblower1014) January 28, 2019
Follow Chepicap now on Twitter, YouTube, Telegram and Facebook!