EOS holds on to top spot in China Blockchain rankings, Bitcoin climbs to 15th
China Electronics and Information Industry Development Research Institute (CCIDI) released its 9th Global Public Chain Technology Evaluation Index. According to the results, EOS remains firmly in first place.
Topping the charts in December last year with a score of 156.1 points, EOS has dropped somewhat now with an overall score of 146.9 points. Scoring a high 102.2 on basic-tech, the platform's applicability let it down with a score of 19.7.
Ethereum too has held on to its second position with an overall score of 134.1. Bitshares, which had previously slipped down to 8th, has made some improvements as it's now ranked 5th overall. Additionally, last month saw Ontology crack the top ten. This month, however, Ontology has made substantial gains as its now sitting in 3rd place.
Bitcoin has climbed three spaces from its previous ranking up to 15th. Making marginal improvements ver last month with the king crypto scored 96.1, this month saw an overall score of 96.3 which puts BTC just 0.3 points behind Waves.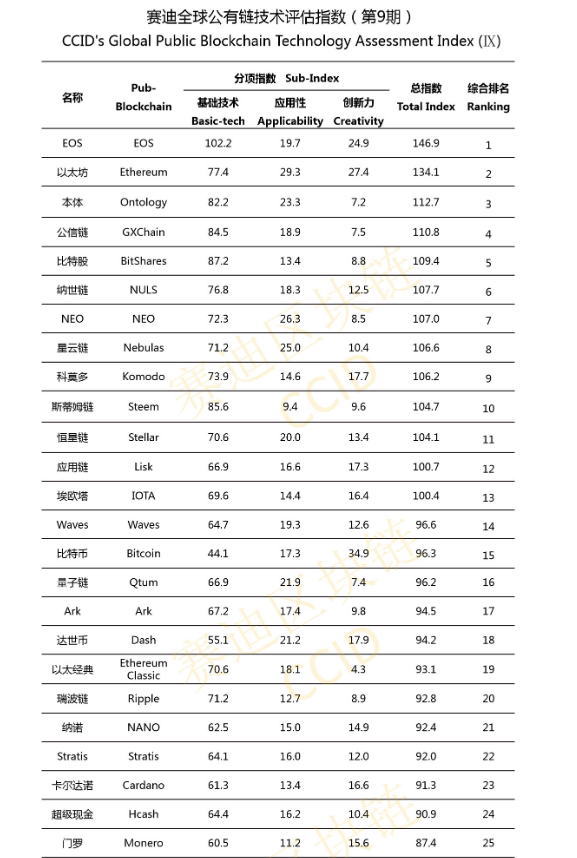 Read more: EOS tops China's final CCID rankings of 2018
Follow Chepicap now on Twitter, YouTube, Telegram and Facebook!