Are TRON and EOS dApps really making Ethereum obsolete?
Tron and EOS are pumping out dApps at an alarming rate, with Tron dApps currently topping the charts, and ethereum currently lagging behind, is ethereum becoming obsolete?
Ethereum currently ranks as the third biggest cryptocurrency behind bTC and XRP. However, when looking at the progress through dApps being built on ethereum, it is clear that ethereum is lagging behind both Tron and EOS in terms of user engagement.
Tron founder Justin Sun recently tweeted his opinion on the matter related to the top dApps
#TRON occupies 6 seats in world's Top 10 Dapps and #ETHEREUM gets 0. In the future it will be 10 seats out of 10! #TRX $TRX #BTT $BTT pic.twitter.com/8fFRgveRUq

— Justin Sun (@justinsuntron) January 26, 2019
While the argument remains that some of the most popular dApps between all three projects are gambling apps, which most believe are copy and paste applications that do nothing to grow the community or drive adoption, the fact remains that some of the statistics are pretty incredible.
Looking at the top figures for each coin, we looked at the app with the most users over the past 24 hours, the most volume each app had over the past week as well as the most transactions over the last week on each network.
Over the past twenty four hours, Ethereums top app in terms of users saw 603 users on ForkDelta. TRX saw 5,900 users on the blockchain game, Epic Dragons. EOS took top spot with 9,700 users on PRA CandyBox.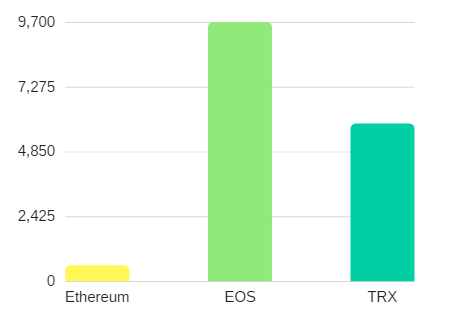 Top volume over the last week on each networks popular dApps saw Ethereum coming in third once again with $3.7m on their gambling dApp 'FCK'. EOS took second place with $50.6m on the gambling dApp 'Dice'. Trons super popular TRONbet took top spot with an impressive $83.9m worth of volume over 7 days.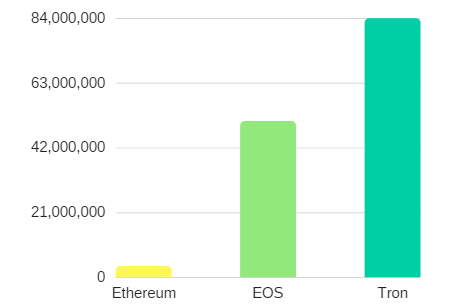 Lastly, looking at transactions over a seven day period, Ethereum was seriously lagging with the top performing app being another gambling dice game with 38,100 transactions. Tron took second place with 3.9m transactions on TRONbet, a 100x transaction volume over ethereum's top performer. EOS took first place here with 4.2m transactions on the 'Poker EOS' gambling dApp.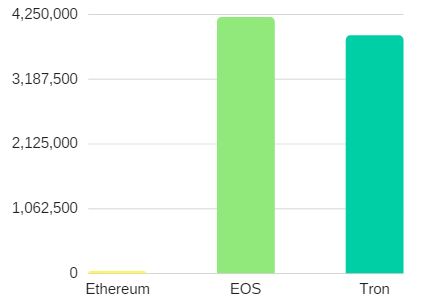 Gambling dApps are a cut above the rest in terms of popularity. However, most will argue that gambling dApps do little to push mass adoption and real world use-cases. One thing is noticeably clear, ethereum is lagging behind EOS and TRX, even if it is mostly just gambling apps.
Follow Chepicap now on Twitter, YouTube, Telegram and Facebook!