Zcoin founder shares Google alert of "government-backed" password theft attempt
According to a post shared just a few hours ago by Poramin Insom, the founder of Thai privacy coin Zcoin, Google has just alerted him of a supposed government-backed password theft attack.
It is no secret that many governments despise privacy coins, often depicting them as an instrument for money laundering and even terrorism financing. Poramin Insom might have been close to being the latest victim of the attempt from the Thai or any other government to get insights on his activity, as he shared via Facebook today: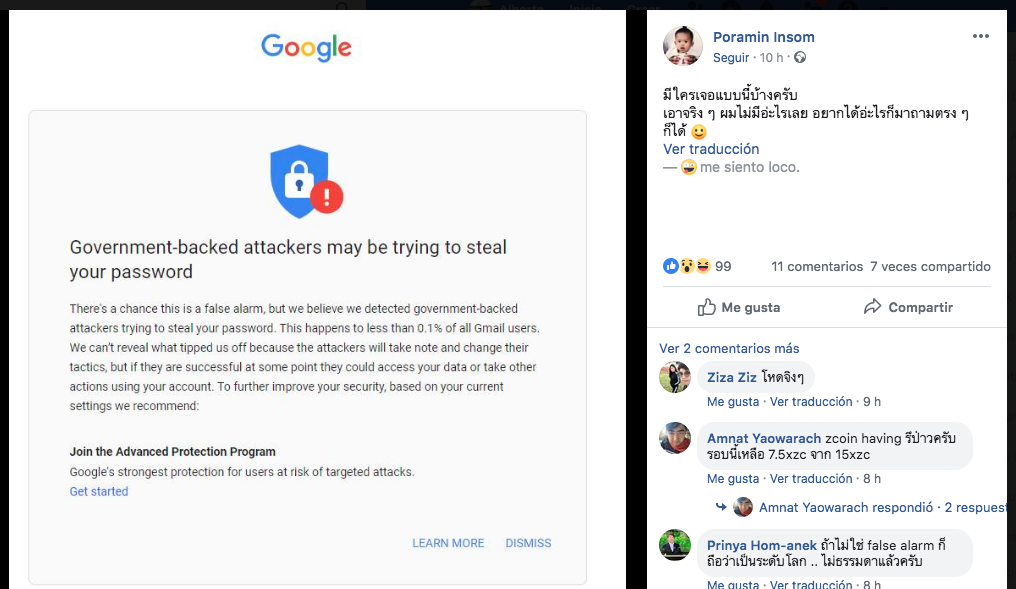 According to the message sent by Google, it seems as a rather uncommon incidence with only 0.1% of all users experiencing a similar mishap. The message also included a suggestion for Insom to join the Advanced Protection Program of Google, which is designed to keep safe users at risk of targeted attacks.
Reddit has been comenting on the possible security incident, with a mix of serious posters concerned about the privacy of Insom, and others just mocking the poor hacking skills of whatever government was behind the password theft attempt:
Thailand-based project Zcoin has made headlines before for creating enhanced privacy protocols and making use of advanced mining algorithms such as the Merkle Tree Proof in order to validate datasets without sorting them entirely. This implementation was supposed to help in evening the possibilities of participation between small miners and large mining companies, as Chepicap reported earlier.
Read more: Decentralizing the centralized: Zcoin's mission to democratize crypto mining
Another notorious appearance of Zcoin that Chepicap covered, was the inclusion on the Zcoin blockchain of an InterPlantery File System link to a videoclip from a Thai rap group, titled "Rap against Dictatorship", which had received a warning from the country's authorities for allegedly "spreading false information into cyberspace".
Read more: Thai artists avoid censorship by adding rap song to Zcoin blockchain
Follow Chepicap now on Twitter, YouTube, Telegram and Facebook!