New Zealand police making progress in Cryptopia hack investigation
Following the recent hack of cryptocurrency exchange Cryptopia, the New Zealand police isseud another update on the ongoing investigation of the unauthorised transfer of cryptocurrency from the Christchurch-based crypto exchange.
The New Zealand police states that good progress is being made and positive lines of enquiry are being developed to identify the source of the transfer, and to identify where the crypto-currencies have been sent.
They point out that this is a very complex investigation, involving several expert digital forensic investigators from within New Zealand and in various overseas jurisdictions, as well as overseas authorities.
The police is seeking assistance of the cryptocurrency community as the investigation progresses.
Read more: Breaking: New Zealand cryptocurrency exchange Cryptopia hacked
It was previously confirmed in a press release that Cryptopia is cooperating fully in their ongoing investigation, explicitly denying reports that employees had stormed the complex.
'Members of the investigation team met with Cryptopia management and staff yesterday and today and outlined progress in the investigation. Cryptopia management and staff have been co-operating with Police and providing considerable assistance in the investigation.'
Read more: Cryptopia employees cooperating with police, crypto community looks for funds
There is no update on the actual identity of the hackers, however, many still believe it to be an exit scam or otherwise an inside job.
Even though the police said that they cannot speculate on the total amount of the hack, estimates have put the value at between 3 and 13 Million dollars worth of cryptocurrency.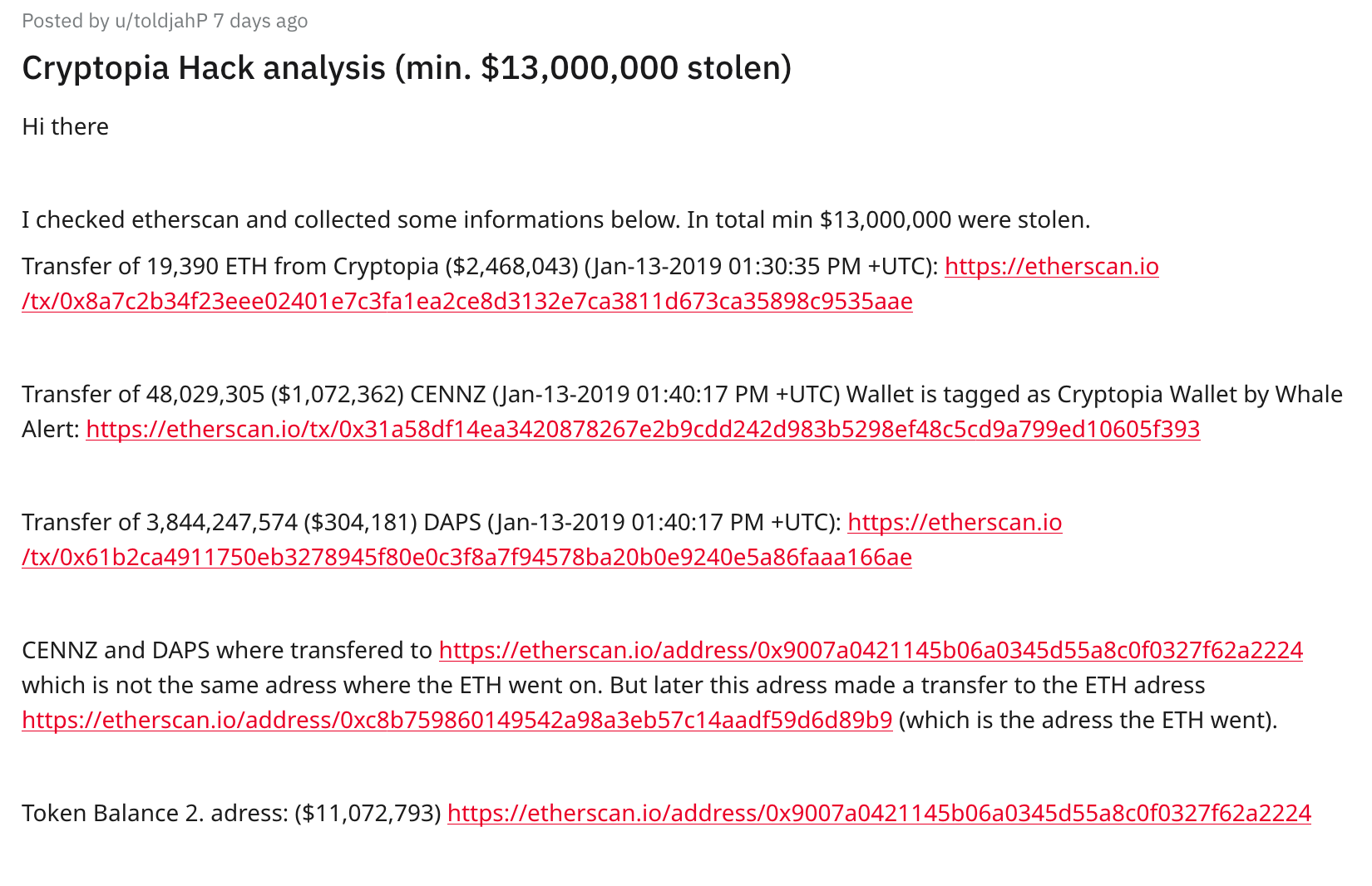 At this point it remains unclear what happend to Cryptopia, and to the stolen funds. The police said that the investigation is expected to take some to time complete, and the digital forensic team will be on-site at Cryptopia's premises for some days to come.
Chepicap will keep you updated when more information is available.
Follow Chepicap now on Twitter, YouTube, Telegram and Facebook!