Is 'cloned coin' Apollo a scam? Reddit says yes
Redditor RozzyPoffle has shared today a pretty extense recollection of what he or she seems to consider red flags concerning Apollo (APL).
The post describes Apollo as a 'cloned coin' from NXT, as it is a fork which lowered the block time to 2 seconds. The funds management strategy followed by the founders of the project also appears to be questionable, as the poster claims they have been "dumping as much APL as they can" during the latest pump. A blog post from October of 2018 shows some detailed research pointing on the same direction.
Further concerns also affect the strict policies followed on the Telegram group of Apollo, where commenters are reportedly getting banned for pretty neutral suggestions such as taking some profit after a large pump, discussing the nature of the privacy tech behind the token or comparing Apollo to other projects such as Monero.
Finally, the founder of Apollo, Steve McCullah, is also claimed to have been involved with alleged scams on the past, and as the below caption shows, has been using the chat channels of the project to suggest shilling strategies:

Over the last 7 days, Apollo has about quadrupled following a large but rather steady pump, taking its market cap from the low $10 billion range up to the mid $40 billion range, where it currently sits: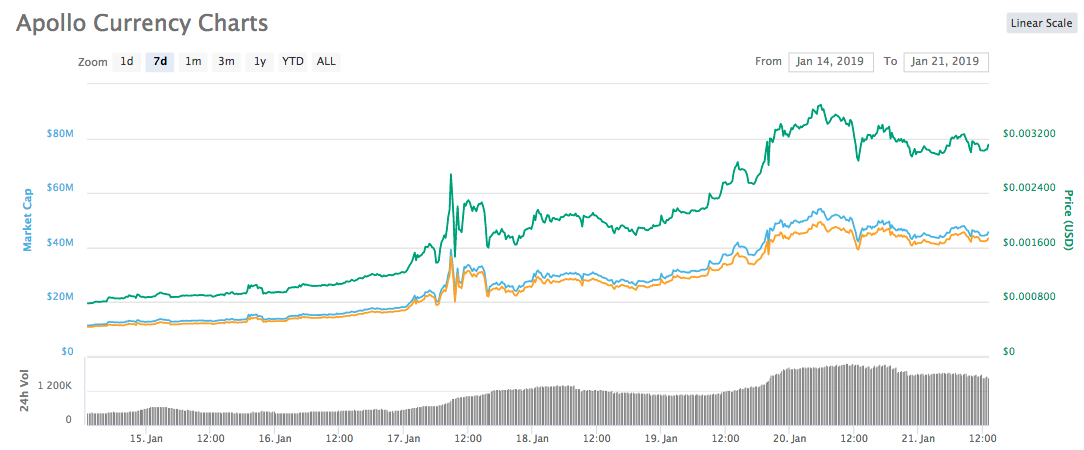 John McAfee is a known backer of Apollo, and was actively tweeting about the project this week.
Apollo is solidly in 68th place in coin rankings.(I am obviously biased). Most privacy coins aren't private because your IP address is still available for all to see. Apollo has the best IP masking solution on the market, offering true privacy which equals true freedom

— John McAfee (@officialmcafee) January 20, 2019
On behalf of the 2020 U.S. presidential candidate, it should be mentioned that he has disclosed promptly his involvement with Apollo when questioned by Twitter users:
No. But i am heavilky involved with Apollo

— John McAfee (@officialmcafee) January 21, 2019
However, this is not the first time that McAfee has supported Apollo: in September of 2018, he was very vocal defending the project after Apollo turned down HitBTC´s offer to be listed on the exchange, as Chepicap reported.
The complete Reddit post can be read right here:
Apollo (APL) is a massive scam and you are all making the founder, Steve McCullah, rich from r/CryptoCurrency
Read more: McAfee Alliance announces daily promotion, highlights Apollo; eToro analyst Mati Greenspan explains why altcoins are surging while BTC is stable
Follow Chepicap now on Twitter, YouTube, Telegram and Facebook!
This is a message from the LIVE Rumors page. You can vote for the reliability of the message yourself!