What's going on with Haven protocol?; Twitter cries "exit scam"
Speculation of an exit scam involving Haven Protocol (XHV) - a fork of privacy coin Monero - is rife on Twitter. These rumors emanate from the recent talk of developers leaving the project, followed by a dramatic drop in price. Now investors fear the worst…
While everyone is still reeling from the Cryptopia hack, scores of commentators have taken to Twitter to stir conjecture on the latest drama to envelop the crypto space.
XHV is currently down -30% after a sharp drop overnight, adding fuel to the emerging flames: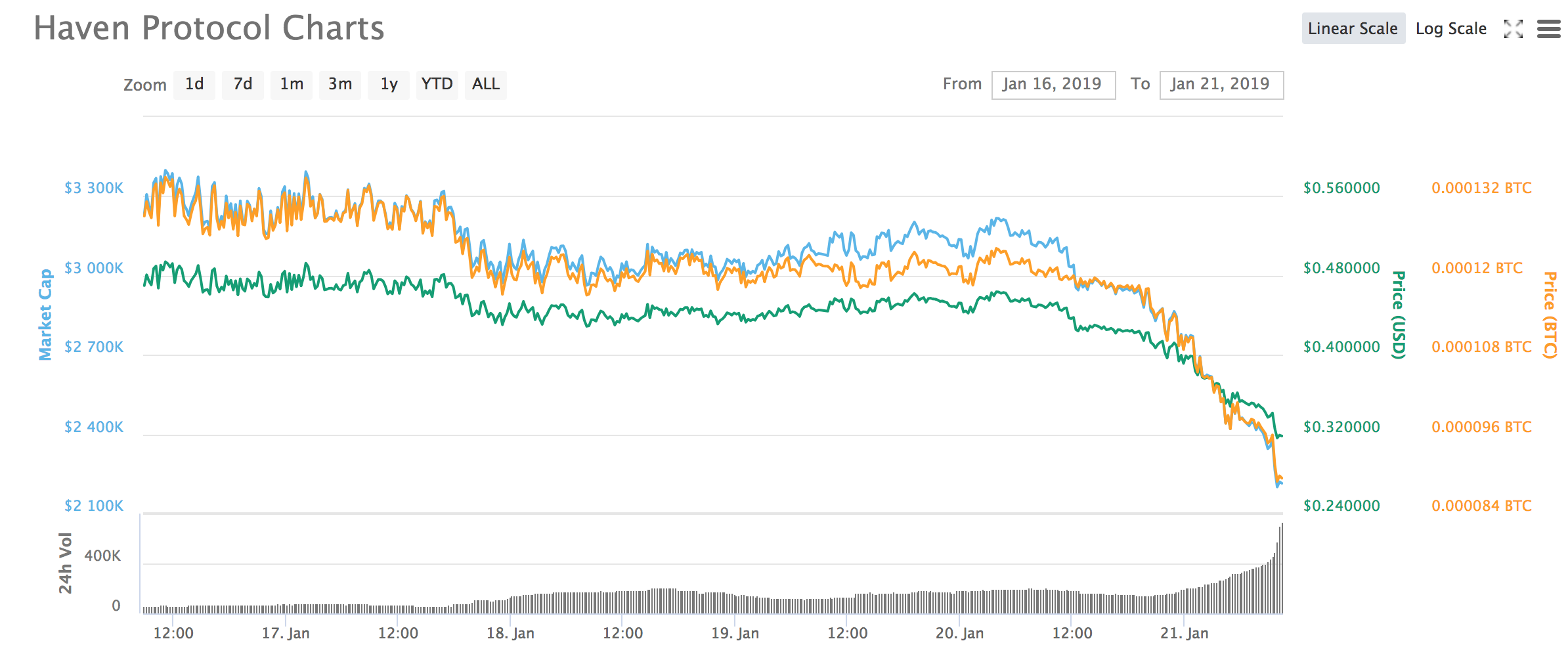 An XHV team chat appears to reveal ongoing strife within the XHV camp, with one team member stating that they would "consider the project dead unless some devs take it over" continuing to cite an apparent lack of communication from a key developer: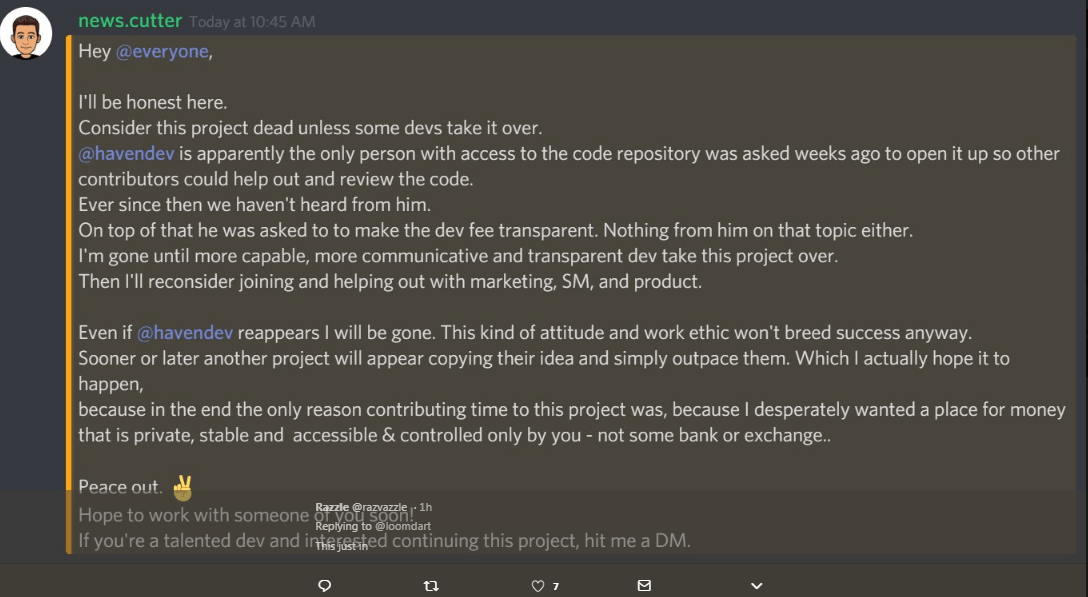 A post on Haven Protocol's official subreddit postulates that these team members may have jumped ship.
A screenshot of the XHV developer team chat reads:
"dweab: I think we need to give ourselves a time limit on this again, if no contact and real progress within the next 3 days then I think we need to give it up"
This was followed by a message which stated:
"please be aware of he timeline @dweab and @news.cutter have given in which they will no longer be a part of the project"
Thanks to team member abandoning the project and one of its lead developers going incommunicado, many are calling XHV an exit scam.
So let me also make a post about the Haven Protocol #XHV exit scam.

A #coin which has been shilled a lot in the past and where some people made a nice bunch of money.

PS: When exit scam pump sir??? pic.twitter.com/0XgOOi7nU8

— CryptoWhale (@089kirill) January 21, 2019
#xhv fat ass scam ?!

— Mr. WO (@Mr_WO_) January 20, 2019
so what happened to heavily shilled $xhv #haven and it's one developer? 🧐😜#havenproject #xhv

— Crypto Wunderbaer | cardano maximalist (@Wiiinnie) January 20, 2019
So #havenprotocol #xhv have done an exit scam. Geez I didn't see that coming. 🤣 Its really not hard to spot the legitimate privacy coins. #monero #spectrecoin #pivx #zcoin

— Crypto Nerd Jnr (@cryptowave2018) January 21, 2019
The $XHV exit scam is actually good for the price. Download this free report to find out how

— Sir Bitlord ❇️ (@Crypto_Bitlord) January 21, 2019
Guys? Anyone?

(haha I can't even pretend I own any anymore, sold most around 40k, grats to those who held) pic.twitter.com/9sKi5H0SVK

— loomd'rat (@loomdart) November 11, 2018
Exit scam, or turbulent times? Let us know your thoughts in the comments below!
Read more: Was Cryptopia hack an inside job?
Follow Chepicap now on Twitter, YouTube, Telegram and Facebook!