Crypto needs a serious security update
Crypto thefts are ballooning, and the problem is almost certainly going to get worse before it gets better.
As a recent CoinGecko report pointed out, over half of all crypto stolen by value was made off with just last year. As cryptocurrency becomes increasingly mainstream, and more people start to get interested, it's almost a certainty that crypto theft will increase.
There is a confluence of attributes which make cryptocurrency a great target for thieves- there are opportunities to obfuscate and anonymize transactions, they are digital, and the new technology has a lot of security holes. While many in the industry look at the blockchain as cryptographically secure, the bottom line is that trading crypto utilizes many different wallets and exchanges, and each moving part in crypto is another avenue for a hacker to attack.

Hackers not only have opportunities to use software to break passwords, but an extremely common tactic is utilizing social engineering of phishing to obtain passwords, after which it is easy to make off with any cryptocurrency one has access to.
These kind of attacks will only get easier as consumers, who otherwise have little experience with cryptographic concepts or cybersecurity, begin to adopt crypto trading. This at least is the demographic that many crypto enthusiasts believe will be reached as cryptocurrency becomes more valuable and mainstream.

While these people are indeed becoming more interested, they will bring with them norms of traditional finance, wherein the banks and platforms take on a significant amount of security concerns for their customers. If the almost $1 Billion lost last year to crypto thefts is to be taken seriously, crypto developers are not prepared for this role.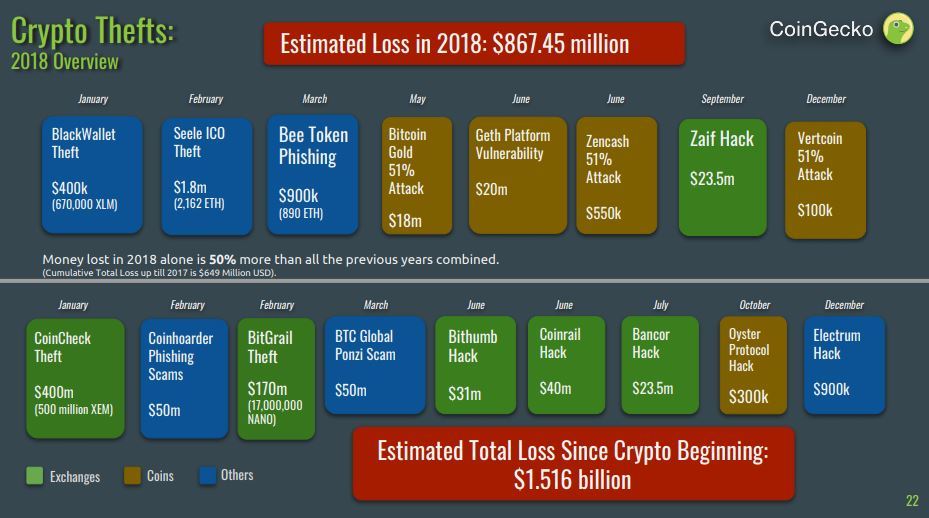 Source: Coingecko

Read more: Binance freezes stolen Cryptopia funds after Twitter warning
This has been demonstrated to be a problem not only for users, but more significantly for whole exchanges, crypto companies, and even entire cryptocurrencies themselves.
Ethereum Classic was hit by a significant majority attack, and insider David Vorick has already claimed that 2019 will be the 'year of the 51% attack.' This type of hack is done through taking a majority of the mining power, and rewriting transactions directly on the blockchain. Now, before cryptocurrency had figured out norms and procedures to stop phishing and hacking, the 51% attack has possibly become an even bigger concern, given that it strikes at the very foundation of what crypto claims is its biggest advantage over fiat- the unmutable blockchain.
Read more: Exchange security report: only 16% A- or A; Cyptopia B while Binance only B+?
While cryptocurrency will likely still win over some converts in 2019, if it is to continue growing in society's eyes, crypto developers will need to seriously update security protocols, and make trading cryptocurrency at least as secure as utilizing existing banking institutions. It will, in all likelihood, need to make it easier, more rewarding, and as useful as these institutions as well, but if it isn't secure, these factors may not even matter to the average consumer.
Bloomberg reported today that BitGo, in response to the almost $1 Billion which was stolen in the first 9 months of 2018 by crypto thieves, is beginning to implement the Genesis trading platform, which allows users to transfer and exchange cryptocurrencies without them ever leaving cold storage- devices which aren't connected to the internet. Security solutions such as Genesis will likely be what sets various cryptocurrencies and trading platforms apart from each other in 2019.
Follow Chepicap now on Twitter, YouTube, Telegram and Facebook!