Bitmain is losing dominance in BTC mining as BTC prices have fallen
According to a report from Diar, the dominance that large pools like AntPool and BTC.com were gaining suddenly reversed as BTC prices fell. While Bitcoin mining was headed towards monopolization, it has quickly diversified. Can this trend continue?
Concurrent with BTC's peak in value last year, Bitmain's Antpool and BTC.com were dominating the Bitcoin mining game. By June Bitmain effectively controlled more than half of all BTC authentication, and therefore reaped more than half the rewards through these pools. This led to many speculating that the situation not only meant an increasing centralization of resources, but a security liability.
The 51% attack is a type of hack in which an actor can take over a crypto network, and has been a theoretical concern for some time. Earlier this week, these fears were realized when a hacker took control of the Ethereum Classic network and made about $460,000 worth of ETC.
Read more: David Vorick: "2019 is the year of the 51% attack"
If an attacker could take control of the BTC through the dominant miner, they could potentially make away with a lot more, and tank the public perception of crypto in general. Fortunately for this possibility, recently Bitmain has lost some of their dominance as the profitability of mining fell along with the value of BTC.
During the crash, many miners were unable to see profits, and accordingly shut down operations, including many who are 'joined to the hip' with the big mining operations like those owned by Bitmain. In its stead, a number of 'unknown miners' have begun increasing their dominance of operations. Any diversity in terms of miners increases security, not to mention means Bitcoin is more democratic.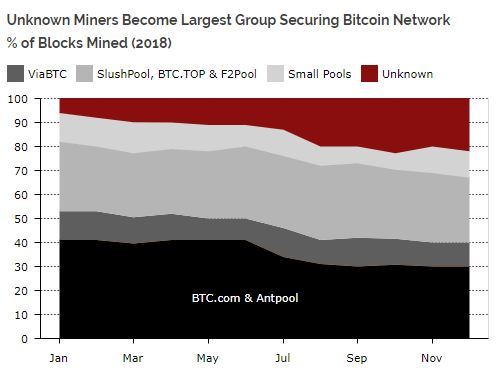 Still, the corollary to the trend in mining last year is that if Bitcoin is to raise in value, there will be an economic incentive for miners with Bitmain, or any other large pool, to resume services. There is no reason to think that Bitmain, which has cornered the market on the most competitive mining rigs, doesn't have a sure-shot to regain their place as the dominant mining effort authenticating Bitcoin.
If Bitcoin is to not only regain its full security, and the benefits of truly distributed mining, a fundamental change will have to take place in its protocol. Otherwise, the best hope is for one or more ASIC manufacturers to begin competing in earnest with Bitmain's slowly growing technological dominance if BTC is to see real competition.
Follow Chepicap now on Twitter, YouTube, Telegram and Facebook!