NEO Co-founder: "I don't care about NEO's price and market capitalization at all"
NEO Co-founder Erik Zhang was recently interviewed by the team at CCN. The interview covered key questions including the progress of NEO and the overall market sentiment.
Zhang focuses more on building the NEO ecosystem than spending time concerned about the current price and market cap of the project, he states "We are developing a blockchain project instead of playing a capital game. I just want to make this project even better." The fact that NEO has dropped out of the top 10 and is currently clinging onto 18th spot does not appear to bother the NEO developer.
Zhang also admits that he does not agree with the NEO being coined with the term "Chinese Ethereum", stating that the projects are both very different. Zhang also reiterates that while the project was created in China, the team is a global team of developers who operate worldwide.
Zhang also talks about the future of NEO, the Co-founder mentions "NEO's goal is to have the ability to run large-scale commercial applications. To achieve this goal, we are doing two things. The first is to improve NEO's infrastructure so that it has higher tps and a more reliable dBFT consensus algorithm. After half a year of development, the improved NEO consensus algorithm dBFT is about to be completed. dBFT will become the best consensus mechanism for blockchains. The second is to develop a distributed storage network, NeoFS, so that applications can store massive amounts of data. The development of the first release candidate (RC1) of NeoFS is expected to be completed in Q3 2019."
NEO continues to put in work and while the price of NEO has dropped by over 95% since the projects all-time high of $189.30 one year ago.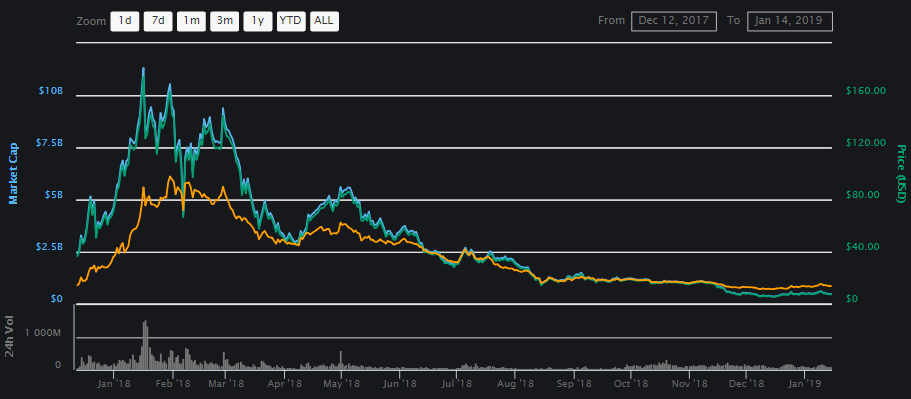 Follow Chepicap now on Twitter, YouTube, Telegram and Facebook!