Dash team claims miner who owns majority hash power is benevolent, gives evidence
In the wake of the ETC 51% attack, Chepicap reported that the popular coin Dash was also at risk as over 50% of the network was owned by a single miner and over 70% was available for rent on Nicehash. Now, Hacked is reporting that the development team behind the coin claims that not only does the majority miner appear to be benevolent, they are voluntarily beginning to take much of their hashing power off of just Nicehash and spreading it around to various pools, in an attempt to limit the centralization of the power.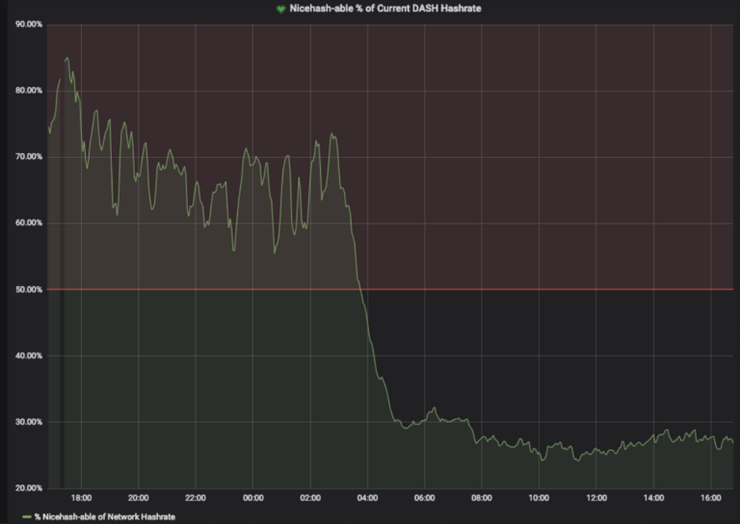 The evidence that this miner means no harm go beyond just a show of good faith, it also includes the fact that the miner holds a good deal of Dash and hurting the network would in turn hurt their investment. Further, they have been in control of this much hash power for at least four months and have been faithfully publishing blocks transparently for the public to see the whole time with no issues.
Part of the statement by the Dash team reads as follows:
"This removes the risk of a malicious party renting the hashing power via NiceHash and simultaneously signals that the entity in control of the hashing power does not have negative intent. We believe the miner behind the hashing power was made aware by the same info we discovered online and quickly moved to more protected pools as they appear to be a major stakeholder of Dash."
While it is never fully comfortable to know over 50% of any blockchain is owned by a central source, this at least should give Dash users a bit of ease as it looks unlikely that this particular entity has any interest in causing trouble. Nonetheless, it does undermine the essential philosophy of decentralized networks.
Ultimately it will be up to those who support Dash to decide if they are comfortable with this situation and what they want to do about it. Stick with Chepicap for any updates on Dash as this unfolds!
Read more: ETC 51% attacker returns 100K USD value in ETC to Gate.io
Follow Chepicap now on Twitter, YouTube, Telegram and Facebook!