ETC 51% attacker returns 100K USD value in ETC to Gate.io
Gate.io exchange announced on their blog that the ETC 51% attacker returned 100K USD value of ETC back to Gate.io on the 10th of January.
The recent ETC 51% hacker has returned $100k worth of ETC back to https://t.co/8kWqgDWNXb on the 10th of January. We have raised the ETC confirmation number to 4000 and launched a strict 51% detection for enhanced protection.

See details: https://t.co/xX8cVIWdC2 pic.twitter.com/MUQX3hpMPV

— gate.io Exchange (@gate_io) January 12, 2019
The exchange wrote that they have been trying to contact the attacker, but that they didn't receive any reply yet.
'We still don't know the reason. If the attacker didn't run it for profit, he might be a white hacker who wanted to remind people the risks in blockchain consensus and hashing power security', the exchange said.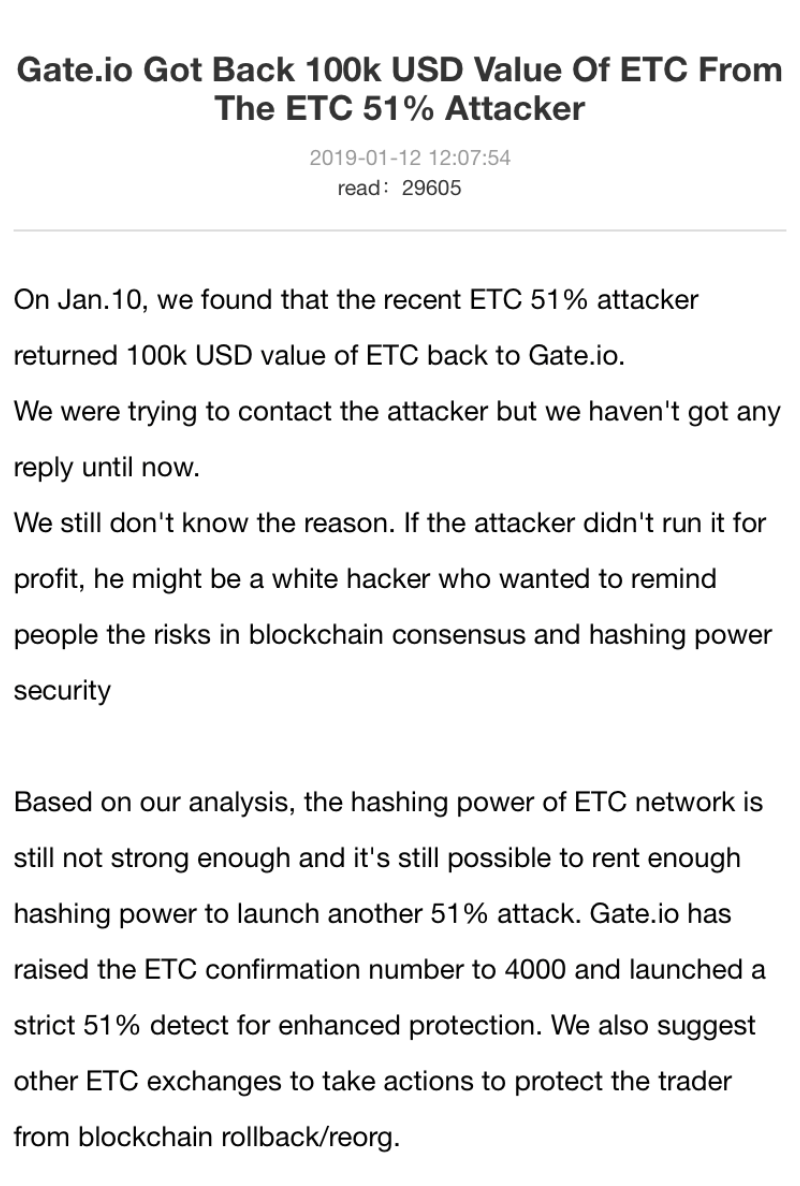 Gate.io confirmed that the 51% attack on the Ethereum Classic network, which happened on January 7th, resulted in about 40K loss in ETC.
The exchange previously stated that they will bear the loss, while suggesting the ETC team and community to build a new consensus mechanism.
Read more: ETC 51% attack transactions passed Gate.io's manual exam, Kraken halts trading
In their statement, Gate.io also said that the hashing power of ETC network is still not strong enough and that it is still possible to rent enough hashing power to launch another 51% attack.
Follow Chepicap now on Twitter, YouTube, Telegram and Facebook!