"Money has a future": Reddit spots crypto exchange ad in NYC subway
First, it was "Crypto needs rules", but the message launched in the latest Gemini street campaign all over the NYC subway has now changed a bit. "Money has a future" is now the new mantra, perhaps as a reaction to the criticism triggered by the first attempt by the Winklevoss twins of selling safety and a normative approach to cryptocurrencies.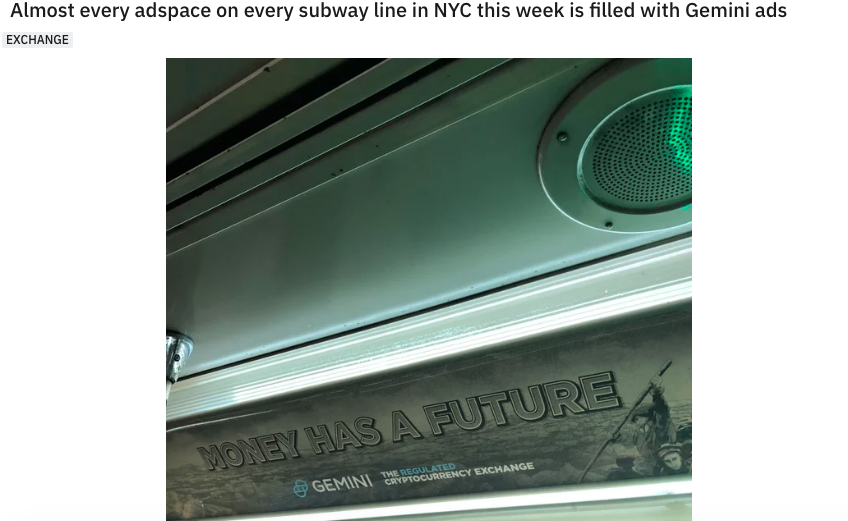 The add appears to have been spotted in several points of New York's subway system, as this redditor corroborated:
This is not the first time that a campaign run by Gemini attracts the attention of the crypto space. The first one drew quite some debate regarding the pertinence of rules in cryptocurrencies, as this reply from Erik Vorhees reflects:
Hey @Gemini... crypto has lots of rules already. Crypto IS rules. These rules are stronger than any political inscriptions; they are objective, open and knowable to all parties, they transcend borders, and they are enforced by mathematics. Crypto is a system of laws and not men. https://t.co/fblSPH0BZE

— Erik Voorhees (@ErikVoorhees) January 4, 2019
The new add placed in the subway was spotted and shared on Reddit, triggering many reactions which ranged from the previously explained reticence towards Gemini's approach to rules and regulation, to more positive ones that reflected on the positive impact of the public presence of crypto.
The thread got even more Winklevoss-centered when a redditor shared the following photographic evidence of his encounter with the twins near Wall Street just a few days back.
Read more: Winklevoss twins on future of BTC - "Bitcoin is better at being gold than gold"; 8 long-term Bitcoin price predictions by experts
Follow Chepicap now on Twitter, YouTube, Telegram and Facebook!