Alternative metric to market cap shows the "fair value" of Bitcoin: $7,415
Bitcoin might be on sale, according to estimations provided by coinfairvalue.com, a website which estimates "fair value", a metric that takes into account the supply of money, the amount of money supply lost and the velocity of money, an indicator for how much value was exchanged.It is quite a different way of looking at the value of cryptocurrencies to that offered by websites such as coinmarketcap.com, as there is no distinction between circulating supply and supply.
The currency fair value model used by coinfairvalue to estimate a price of $7,415 per bitcoin utilizes several variables derived from Austrian economics in order to approximate a price per coin which is about double of the current Bitcoin market price. This model, which does not makes use of any market data, was proposed on a Steemit post by user pablomp about 2 years ago. Since then, it has been picked by relevant members of the crypto space such as Tom Lee, Fundstrat Global Advisors research head.
Read more: Bitcoin (BTC) price should be $14,800, according to Tom Lee's "fair value" metric
With their way of accounting for supply data, Coinfairvalue.com might be a great way to take into account the effects of whales and in general large concentration of capital on the market. As their website mentions in the methodology section:
"Be careful in the cases where a slow velocity of money is a consequence of a token issuer or company holding the majority of the currency supply. In these cases, one single person can change the overall velocity of the currency in an unpredictable instant."
The model shows similar results for other cryptocurrencies, pricing Ethereum at $241.76, Stellar at $0.31, TRON at $0.12 or EOS at $7.99: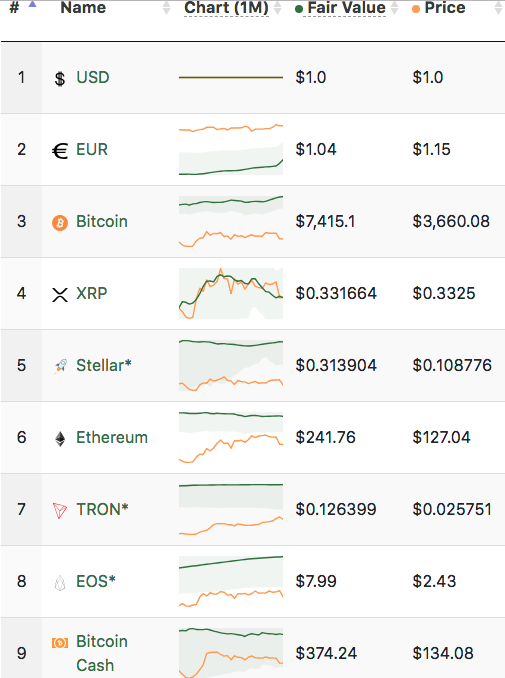 XRP is the notorious exception (together with the euro, which is also considered to be overvalued regarding to the dollar) when it comes to estimating higher prices than current trading values, as its USD "fair value" per token is only of 0.331, compared to the 0.332 reported by normal means.
Reddit has received the proposal with mixed feelings, including some confused members of the r/CryptoCurrency subreddit who tried their luck at selling at a bonus:
It seems as if market capitalization will stick for a while as a metric of reference when it comes to valuating cryptocurrencies. However, the fair value proposal might just be an interesting way to get a fresh, price-independent peek at the financial value behind Bitcoin.
Read more: Are we measuring market cap wrong?; Actively developed cryptos don't always result in a better market cap
Follow Chepicap now on Twitter, YouTube, Telegram and Facebook!