Crypto ATMs being installed at a rapid rate of 5 per day Worldwide
According to Coin ATM Radar, who keeps track of cryptocurrency automated teller machines (ATMs) being installed worldwide, currently there are nearly five crypto ATMs being installed daily worldwide.
The website tracks the progress of ATMs across the globe, offering information on how many ATMs are located in a Country and where they can be found.
Coin ATM Radar also offers a handy speed gauge which identifies the speed of at which ATMs are being installed. This is based on the last 60 days with speed based on the past 7 days. Currently the gauge indicates that the current crypto ATM installation speed is is 4.9 ATMs per day.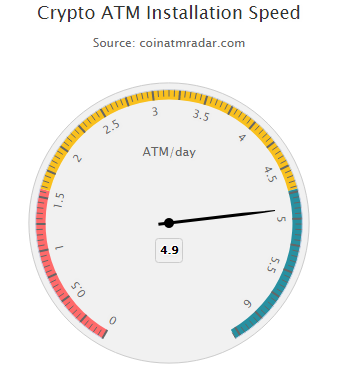 There are currently a reported 4167 ATMs in 75 countries, with the USA leading the pack. The U.S currently has 2,499 locations with Canada (705) and Austria (267) making up the top three.
Also Read: Bitcoin ATM maker moves to Switzerland amidst regulatory issues in other countries
New countries to the list include Zimbabwe, Uganda, Kenya and Peru among 20 others who all have one crypto ATM installed.
Africa represents not even 1% of the total crypto ATMs in the World, with the U.S taking the lion's share of 60%

Follow Chepicap now on Twitter, YouTube, Telegram and Facebook!