Market Update: BTC falls, and with it $15 Billion is erased from crypto
The market has taken a major hit today, with about 10% of the value of cryptocurrency disappearing in less than 24 hours.
What Happened?
According to Coinmarketcap, Bitcoin is down to under $3,700- declining about 9% from its high over $4,000 over the past 24 hours. Bitcoin's fall seems to have precipitated fears about crypto generally, with the total Market Cap falling from $138 to $123 Billion.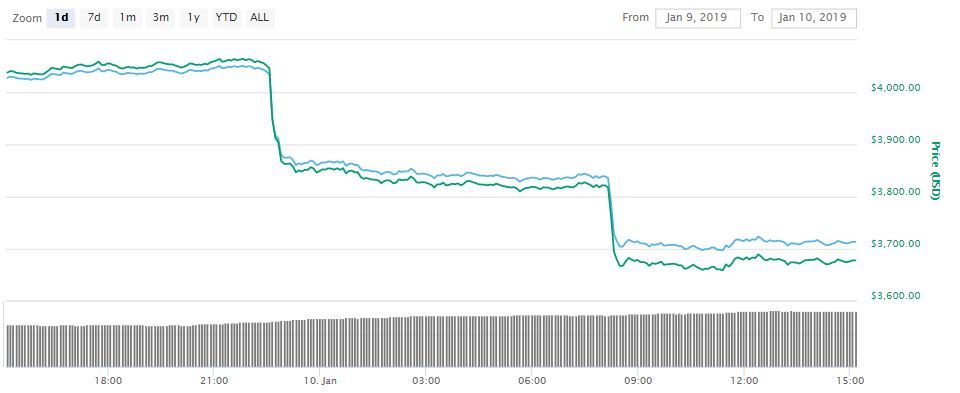 How Bad is it?
While very few cryptocoins have had any luck getting through today's downturn without taking a hit, some are being hit worse than others. IOST is the biggest loser by percentage, taking a hit of over %20 by volume, and in the top ten EOS and BCH both fell by over 16% to $2.43 and $134 respectively. Of course, every major cryptocurrency was hit pretty massively today, with XRP and Ethereum both plunging down over 10%.
Crypto crash, Crypto crash, I love a crypto crash! pic.twitter.com/GLdI2APkCY

— Indradeep Khan (@IndradeepKhan) January 10, 2019

Why is this Happening?
Mati Greenspan, speaking to CNBC, couldn't provide any specific cause 'neither technical nor fundamental' for the sudden drop, but a commentator writing for Forbes declared that this is the final leg and a continuation of the crypto crash, and sees a Bitcoin target of around 2,500 at lowest.
Read more: Bitcoin tumbles below $3600, will we be seeing $3000 soon?
It seems that even though layoffs and bankruptcy is sweeping through crypto, capitulation might not have come yet. While Bitcoin might hit five digit values again this year and bring up the whole crypto market along, there still might have to be some downward movement to go before we see the trajectory start swinging back up.
Follow Chepicap now on Twitter, YouTube, Telegram and Facebook!