Market dump sees all coins drop in 30 minute time frame, BTC under $4,000 again
The market appears to have slumped to last weeks prices following a massive dump in prices across the board.
Bitcoin slumped to $3,850 within 30 minutes to see a nearly 5% loss in price, dropping back below the $4,000 once again. BTC was not the only coin to suffer the fate of the massive sell off which appears to have occurred across the board.
The top 10 all saw red with TRON dropping over 10% within the hour.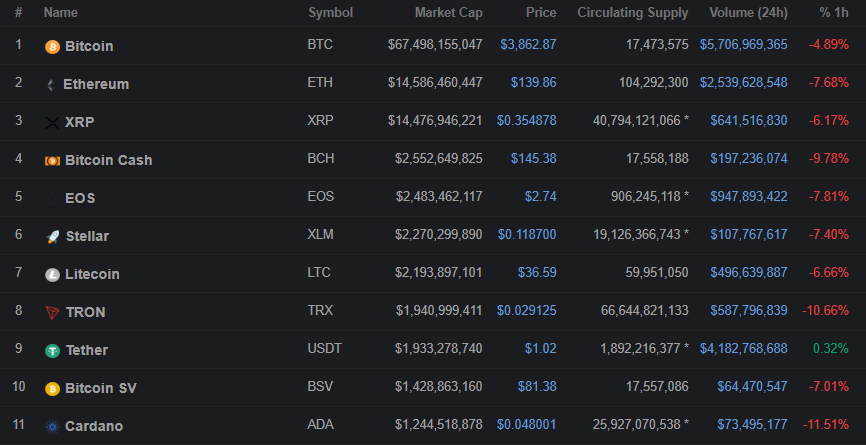 The total market cap erased roughly $8 billion dollars in the space of minutes, with only one coin in the top 100 remaining green. Aurora (AOA) managed to hold an 8% increase in price over the hour with every single other top 100 coin seeing red (excluding stable coins)

The market appears to have retraced to last weeks prices, with just a few projects holding some of their gains, with NEO, ADA, LTC holding green over the last week, TRON mantained majority of its price gains following a 50% jump in price over the past seven days.

Watch: Ethereum likely to dip after hard fork, Bitcoin to $3800?



Recap: First BSV, now Tether: TRON keeps moving up the charts for market cap
Ah yes. That is more like it. https://t.co/oW8w2ZjrK0

— Beastlorion (@Beastlyorion) January 10, 2019
What a nice troll to dump on non-peak hours when people are not in front of the screen 😶

— VEOMaximalist (@CryptoMaestro) January 10, 2019
Well the Bitcoin volume is back. pic.twitter.com/5BdI4V7nWs

— WhalePanda (@WhalePanda) January 10, 2019
Follow Chepicap now on Twitter, YouTube, Telegram and Facebook!