First BSV, now Tether: TRON keeps moving up the charts for market cap
As previously reported by Chepicap, TRON (TRX) has been on a tear lately, and just 2 days ago overtook BitcoinSV (BSV) in market capitalization. Now TRON has done it again and surpassed Tether to reach the #8 spot on Coin Market Cap.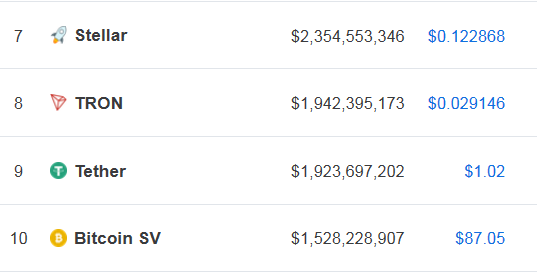 TRON is up an impressive 12.98% in the last 24 hours, and this is what helped get the coin into a new spot. The excitement of this news prompted founder Justin Sun to tweet the begging question, "Who's next?"
Who's next? 🤜🏻 💥 #TRON $TRX $BTT pic.twitter.com/6cn3lUOnDz

— Justin Sun (@justinsuntron) January 9, 2019
To answer the question, next in line looks to be Stellar, and their market cap is only about $400,000,000 higher than TRON at the time of this writing. Should this "flippening" occur, it would be a symbolic blow to Stellar is its founder Jed McCaleb recently came out with some strong words against TRON as a project:
"Ninety percent of these projects are B.S. I'm looking forward to that changing. Things like Tron, it's just garbage. But people dump tons of money into it, these things that just do not technically work."
While this did lead to a response from Sun, no verbal response rings as loud as overtaking the coin's market cap. Will it happen? Can TRON maintain these levels? Stick right here with Chepicap for any updates on TRON's latest price action.
Follow Chepicap now on Twitter, YouTube, Telegram and Facebook!