The Gilet Jaunes: Protesters run on the banks could collapse French banking system
As the situation in France escalates, the anti-Emmanuel Macron protesters - aka The Gilets Jaunes (the yellow vests) - plan to make a run on the country's banks.
This "bank run" is a call from the yellow vests, to all French citizens, emploring them to withdraw their euros.
If successful, the group may cause a complete failure of the banking system in France. This is because French banks are run via a fractional reserve system, meaning that only a fraction of funds are backed by actual fiat; the country's banks are estimated to have less than 1/4th of the funds on hand needed to satisfy a bank run.
The yellow vests seem to know where to hit the government hardest. A post on Facebook confirms that today (9th January) protestors will demonstrate outside of the Rothschild owned bank of Lyon.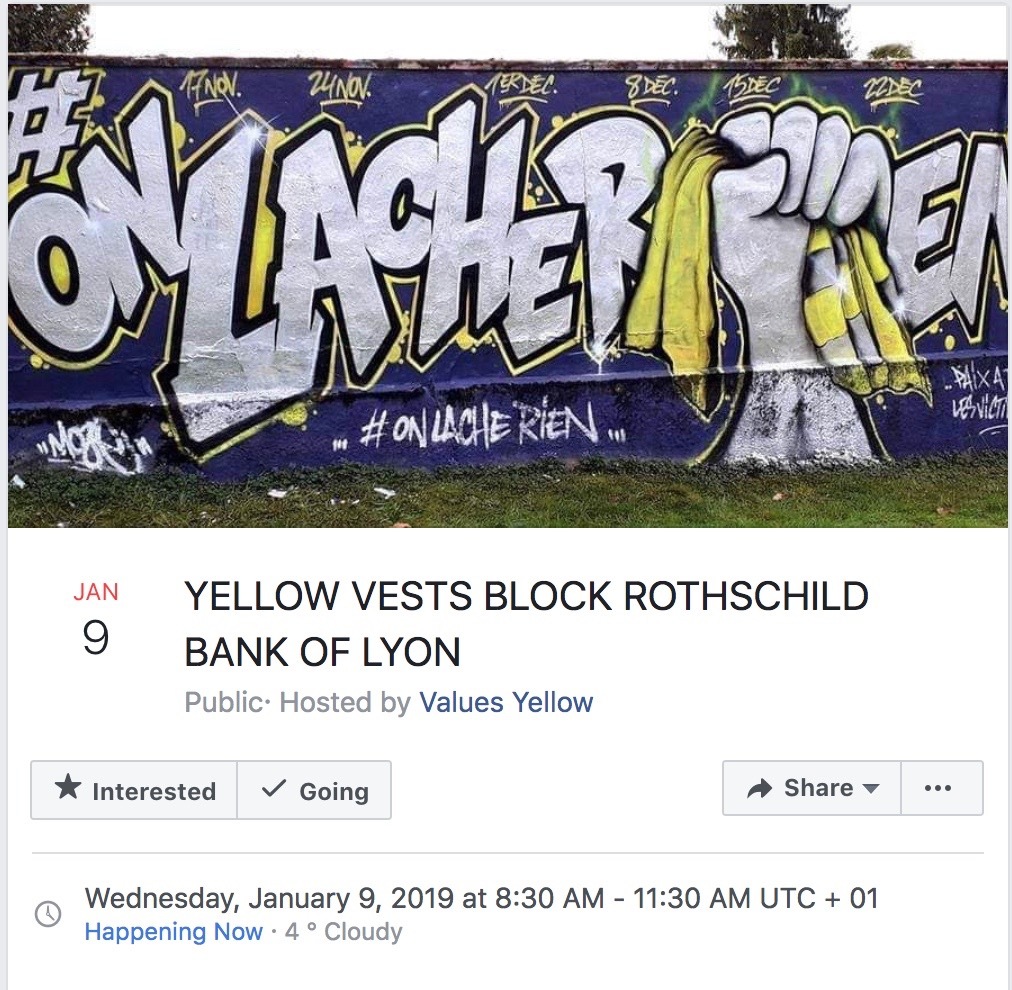 It appears the cryptocurrency community hasn't ignored the attempts to undermine these centralized financial institutions, rallying to the cause by promoting the use of Bitcoin (BTC):
Reports are saying that Yellow Vest Protestors in France which is 70% of the population is planning to withdraw all of their money from banks to destabilize the gov.

It will be nearly 46 million people directly revolting against the banking system.#YellowVests #France #BTC pic.twitter.com/WQfmiywwYF

— Suprateek Bose (@SupraBo_) January 8, 2019
As reported, a street artist known as Pascal Boyart, AKA Pboy, recently finished a mural depicting the yellow vests' struggle against the French regime. Incredibly It was revealed that the mural hides a prize of 0,26btc ($1000).
#StreetArt treasure hunt in Paris with a #Bitcoin puzzle
For the 10th birthday of the genesis block, I painted this frescoe in Paris with a 0,26btc ($1000) puzzle in it.
Here's the public key: 1NqPwPp7hEXZ3Atj77Ue11xAEMmXqAXwrQ Thanks to @alistairmilne for sponsoring this 🙏 pic.twitter.com/F7aIkxmp6t

— Pascal Boyart (@pascalboyart) January 7, 2019
As of writing, no one has yet solved the puzzle, and the amount has increased to 0.2874245 BTC; evidently due to an anonymous donation.
Read more: Street artist Pboy hides $1000 in BTC inside a mural depicting Paris protests; Is crypto the solution to 'Gilet Jaunes' protests in France?


Follow Chepicap now on Twitter, YouTube, Telegram and Facebook!