Survey says 70% of central banks are studying digital currencies
According to a paper released today by the Bank of International Settlements, central banks are cautious but steadily moving towards digital currencies.
As the chart below shows, up to 70% of the central banks consulted admitted being involved in some type of project involving digital currencies in 2018, up 10% from 2017.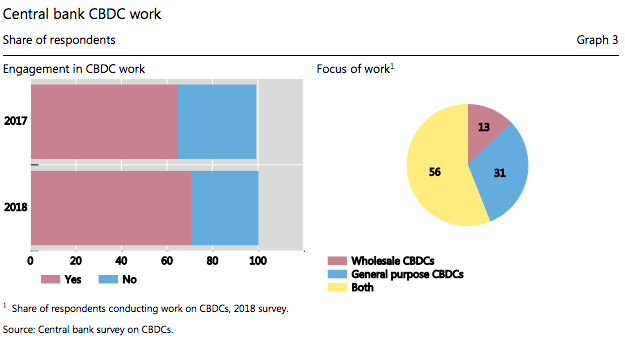 Out of those considering digital currencies, all banks were engaged in research or study efforts, while 50% were advancing towards experiments and a 10% already was in a pilot development stage.
Another interesting conclusion coming from the study regards the motivations behind issuing digital currencies for central banks. A notable difference can be seen between advanced and developing economies with regards to financial inclusion, a top priority for the emerging markets but not so much for the already established ones:
With regards to the timing for the appearance of central bank-backed digital currencies, it was also interesting to note that at least two institutions admitted that it is "very likely" that they will be launching a token in the short term, with nearly 20% saying it is "possible".
Read more: If blockchain tech improved, most central banks would issue a CBDC: IBM report; Dutch Central Bank regulates crypto companies to cut down on money laundering
Follow Chepicap now on Twitter, YouTube, Telegram and Facebook!