Tron (TRX) surges 13% in mixed day for market
After overtaking Bitcoin Cash SV (BSV) to become the 9th-largest crypto yesterday, Tron (TRX) is now up around 13 percent for the 24h period. The rest of the market has remained relatively stable, with a few exceptions.
Total market cap / BTC dominance:
Total market cap stands at $136 billion, which is down for the 24h period but by less than $200 million. BTC dominance stands at 51.8%.
Bitcoin (BTC) - $4,047.26 (0.38%)

Bitcoin has held above the $4000 mark for over 36 hours now. It is up around $40 from 12 hours ago, when it almost dipped back under this new support level which has attained some significance.
Top 10
Tron (TRX) is by far the best performer in the top 10 for the last 24 hours, seeing the 3rd-biggest gains of any crypto, and the most of any in the top 50. It is up by 12.89%, perhaps riding high on some positive fundamentals from the last few weeks. Litecoin (LTC) is also up by 4.21%. In a relatively stable day, the biggest loss in the top 10 has been suffered by Bitcoin Cash (BCH), which is -1.05%.
Tron (TRX)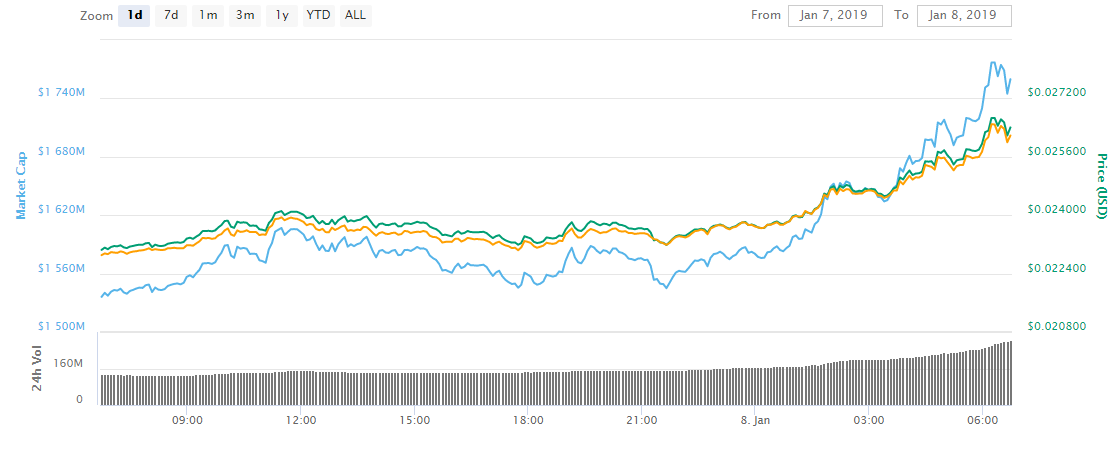 Follow Chepicap now on Twitter, YouTube, Telegram and Facebook!