One year later, the bear market has taken its toll on crypto
One year ago the euphoria of the crypto market was at an all-time high, BTC was soaring to new highs daily, and altcoins were seeing price jumps well beyond anyone's wildest dreams. The bull run of 2017 saw millionaires being created overnight as crypto and bitcoin became some of the top searched words on Google. One year later and how things have changed.
The market has since corrected from the all-time highs and the essentially 'come back down to earth'.
Where is Bitcoin headed: 8 long-term Bitcoin price predictions by experts
Bitcoin had already begun it's decent by this time last year. However, altcoins were slowly beginning to drop and some were still tapering off from the bull market.
BTC was sitting at $16,092, already well over $3,000 down since reaching it's all-time high (ATH) just three weeks earlier. The total market cap of BTC alone, was ranging between $270 billion. Double what the entire market currently stands at today.
January 8 2018, represented the ATH in market capitalization according to CMC, which saw the market reach over $810 billion.

A look at the top 10 one year ago, the gains made over a 7-day period ranged from 16.52% up to 370%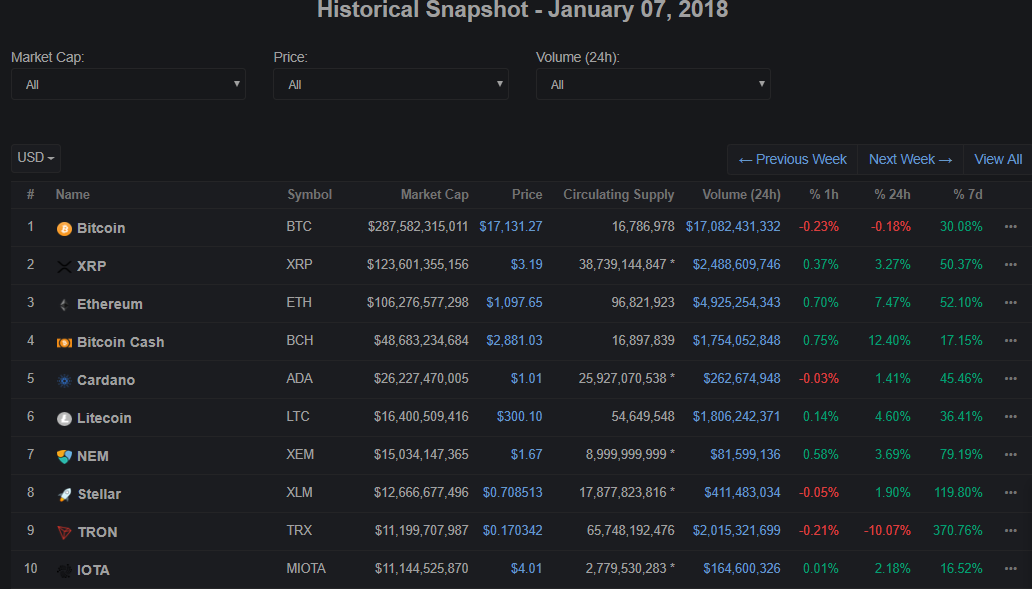 The market has since seen a dramatic cool down, which most analysts have called "healthy" in terms of crypto and blockchain adoption.
Also Read: What happens to Bitcoin if the stock market crashes?
Focus appears to have moved away from the scammy, money grabbing initial coin offerings, and more on building technology and blockchain development. Something that was lacking in 2017.
With worldwide regulation and potential institutional adoption on the cards for 2019, security tokens look set to be the latest introduction to the crypto market and could trigger the next wave of adoption within the industry.
Recap: NASDAQ-backed DX Exchange goes live today
Sadly, the extreme downturn in crypto prices may have caused more fear, uncertainty and doubt within the market over 2018, something 2019 will be looking to rectify as legitimate companies look to push mass adoption.
Looking back at 2017, crypto has certainly come a long way. If someone had said in 2017 "BTC will be at $4,000" from $924. Chances are everyone would have been buying it all. Long term, the next few years could signal the shift in decentralized currencies that make them the world standard.
Top 10 price comparison from 2017.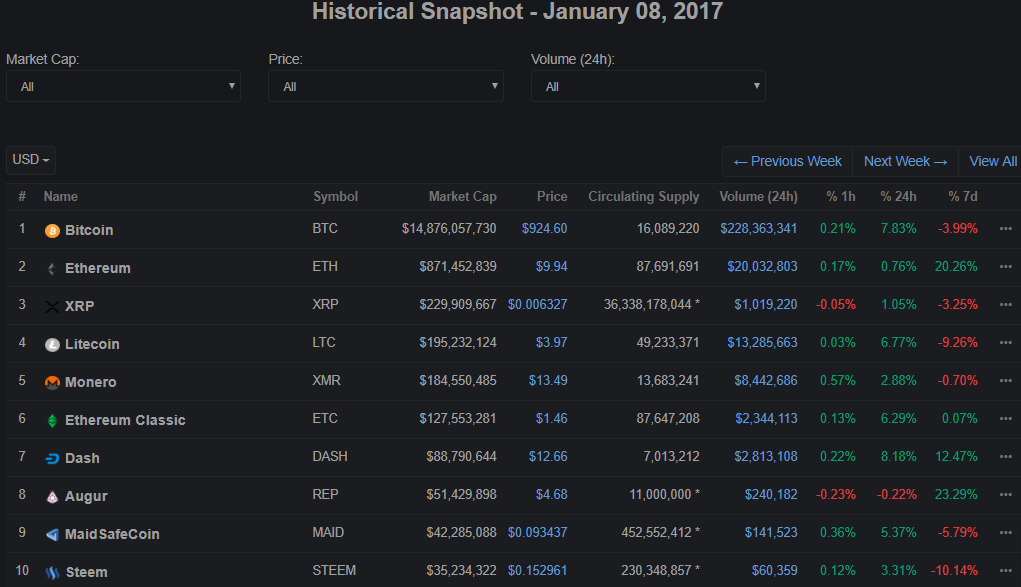 Follow Chepicap now on Twitter, YouTube, Telegram and Facebook!