Ethereum Classic hit by 51% attack, seeing double spends totalling $460,000
It looks like Ethereum Classic has been hit with a 51% attack today, causing a massive chain reorganization and double spent transactions totalling 88,500 ETC or about $460,000. In response Coinbase announced that it was halting all movements of ETC until further notice, and the ETC team suggested all exchanges dramatically increase the number of confirmations for transactions, if nothing else.
On 1/5/2019, Coinbase detected a deep chain reorganization of the Ethereum Classic blockchain that included a double spend. In order to protect customer funds, we immediately paused movements of these funds on the ETC blockchain. Read more here: https://t.co/vCx89dz44m

— Coinbase (@coinbase) January 7, 2019
According to Coinbase, beginning on the 5th they began to see multiple, deep reorganizations to the Ethereum Classic blockchain. So far a total of 88,500 ETC has been double spent under the attack, and seeing this is what prompted Coinbase to halt all activity with the coin. News has been spreading fast, causing many, including the Ethereum Classic team, to respond on twitter.
We are working with Slow Mist and many others in the crypto community. We recommend exchanges and pools significantly increase confirmation times (400-4000+) https://t.co/mKlhFjCodz

— Ethereum Classic (@eth_classic) January 7, 2019
We wanted to inform our community that we are monitoring the @eth_classic $ETC situation very closely, while it is still being clarified. If any steps are needed on our end or on the users end, we will announce it accordingly. Thank you! pic.twitter.com/GRhZQmqNoU

— Ethos.io (@Ethos_io) January 7, 2019
As many of you have surely heard by now, #EthereumClassic is experiencing what seems like a 51% attack. #TeamMEW suggests that ETC users refrain from making transactions during this time. ETH users don't need to worry!#ETC

— MyEtherWallet.com (@myetherwallet) January 7, 2019
Perhaps not surprisingly, as the news has spread it has hurt the price of ETC fairly quickly. As of this writing, the coin has slipped -7.73% to about $5.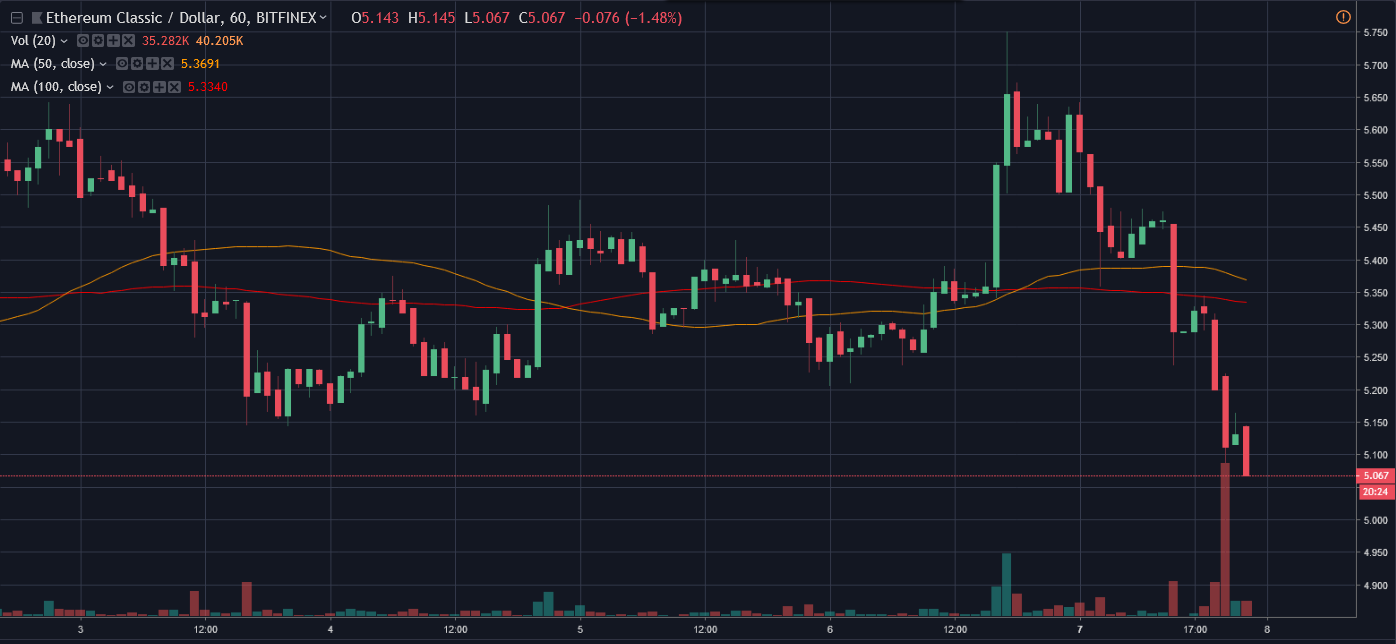 Whether this will be a blip for the ETC network or the beginning of something bigger remains to be seen. Stick with Chepicap for all updates!
Follow Chepicap now on Twitter, YouTube, Telegram and Facebook!