Tron (TRX) overtakes BSV, just as Justin Sun predicted
Tron (TRX) has overtaken Bitcoin Cash SV in market cap, to become the 9th-biggest crypto. Founder Justin Sun had previously predicted that this would happen, and in a tweet he seemed to ironically apologise to @ProfFaustus, the handle of BSV figurehead Craig S. Wright.
Tron (TRX) is now up 4.42 percent for the 24h period, and it has surpassed the market cap of Bitcoin Cash SV (BSV) in the last few hours. It now stands at $1.58 billion, compared to BSV's $1.55 billion.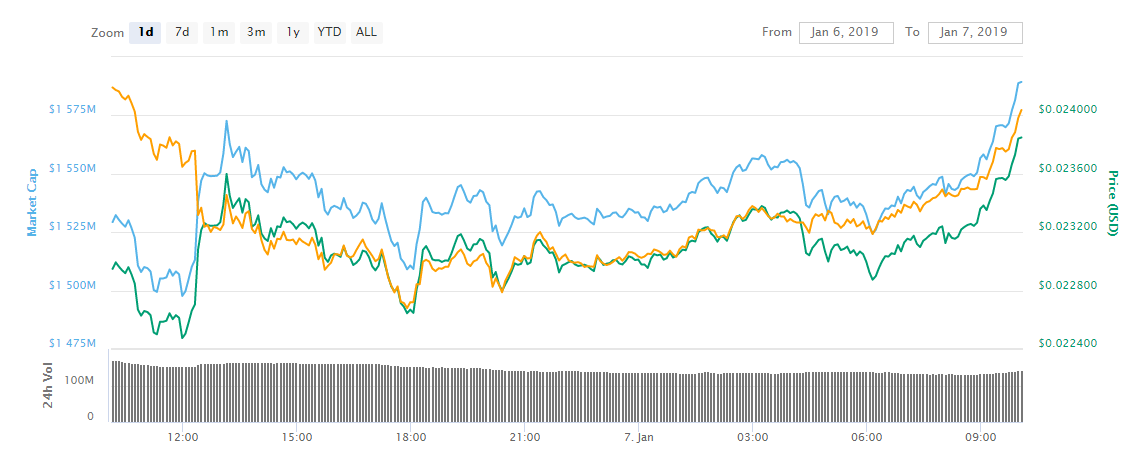 Sun is known for his often confrontational attitude on Twitter, hailing the successes of his own network and usually getting in some sly digs at rivals at the same time. He had more to celebrate recently than other leading figures in the crypto space, and hasn't missed the opportunity to point that out.
Read more: Justin Sun, high off Tron's successes, doubles down on Consensys jests; Justin Sun 'to rescue developers from collapse ETH and EOS' with TRON fund

Directed at one of the least popular members of the crypto community, this latest burn was one of Sun's more popular ones. Many observers support TRX over BSV, and they praised Sun's marketing skills as well as pointing out that he is likely to be blocked by CSW on Twitter, as many of his critics are.
His algo for sure autoblocks Justin for this 😂

— Eric Thies (@KingThies) January 7, 2019
Look, this guy @justinsuntron knows how to market. Marketing is more than half the battle... If the platform can produce, and back up his talk, then hey, the sky is the limit. So will $trx be one the future crypto "FANG" among $xrp $vet $btc $eth? Time will tell?

— Macmac007 (@007Macmac007) January 7, 2019
Fu*k bsv

— अमरेश कुमार 🇮🇳 (@amresh_1995) January 7, 2019
Follow Chepicap now on Twitter, YouTube, Telegram and Facebook!