Rumors continue to swirl about HitBTC insolvency as withdrawal issues continue
Following the news last week regarding cryptocurrency exchange HitBTC not allowing some users to withdraw funds and freezing their accounts, it appears as if things have not improved. Reddit users explain their frustration with unreasonable Know Your Customer (KYC) procedures and inability to withdraw funds.
Things don't appear to have gotten any better with HitBTC, as Reddit users continue to post about the shady dealings of the exchange.
HitBTC was in the spotlight last week leading up to the proof of keys event held on 3 January 2018, when most people talked about HitBTC not being able to manage if users all withdrew their funds.
Recap: Reddit user honors 'Proof of Keys' and remembers what a pain it is to move crypto
HitBTC managed to avoid a catastrophe and survived the event. However, users are still experiencing bizarre KYC procedures which include activities such as asking for social media account info and taking pictures of oneself in different areas of their houses.
The HitBTC sub-reddit page is rife with stories of withdrawal issues and KYC problems. While some users admit that they have managed to withdraw, there appear to be plenty of users who admit they cannot seem to withdraw their funds. Another interesting issue on Reddit, is that the Reddit user, @HitBTC has been suspended and the only moderator of the HitBTC Reddit page is in fact, Reddit user @HitBTC. Therefor the Reddit page is currently not run by anyone at this point.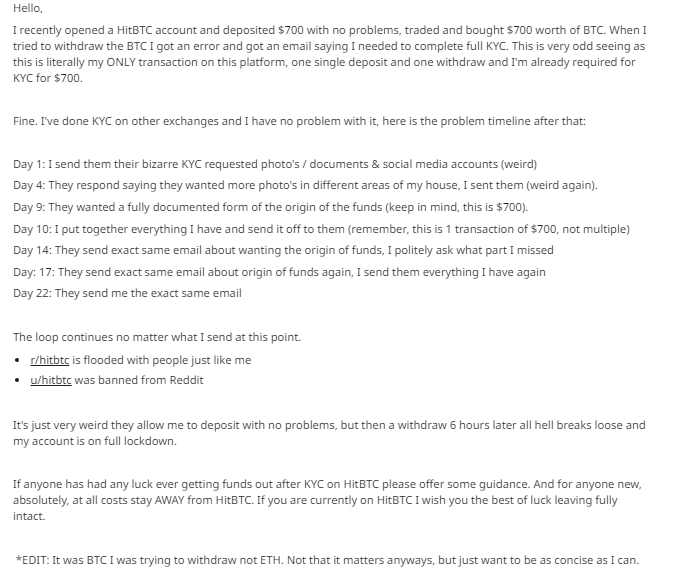 Reddit users have recently created a HitBTC victims sub-reddit for anyone looking to post their story and perhaps find a solution.
Follow Chepicap now on Twitter, YouTube, Telegram and Facebook!