Bull run soon?: Crypto technicals indicate 'buy' signal
The bear market was so 2018, forget about it, because some bullish signaling is indicating that Bitcoin is ripe for the picking and people are noticing…
According to Bloomberg, the GTI Vera Convergence Divergence indicator (sounds fancy) shows that Bitcoin (BTC) is in the midst of a 6-month buying streak and, should this buying pressure continue could lead to a rise in prices.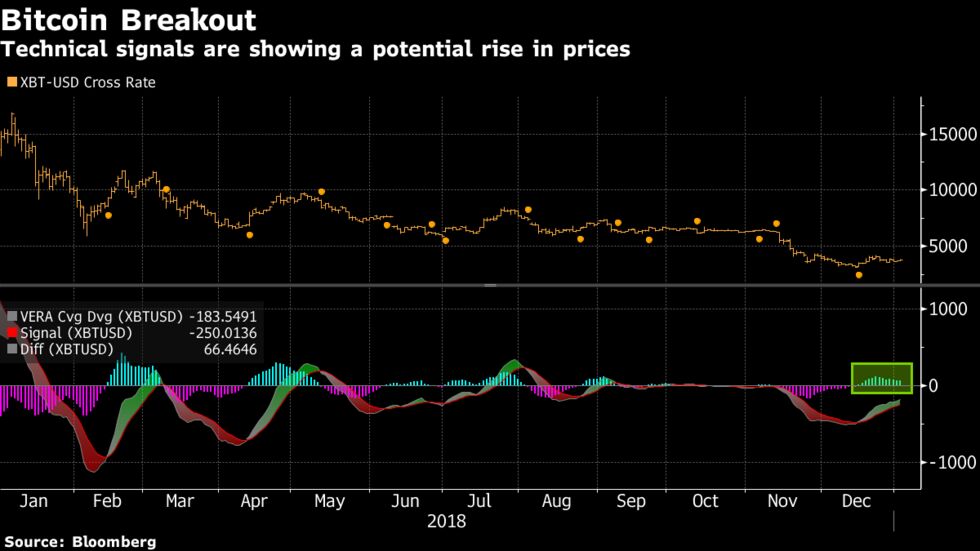 Mati Greenspan, senior market analyst for eToro, spoke further on the topic of technical analysis and its validity:
"Usually the best thing to do is to buy low and sell high. So if we are going by technical analysis we can very easily see on the chart that we are much closer to the bottom than we are to the top. I'm seeing an industry that is growing at a very rapid pace right now where we see companies that are involved in Bitcoin and blockchain hiring at a rapid rate," He said "We see new projects coming online. We see all kind of indication that people are getting more and more involved in the market."
Bloomberg also asserts that their crypto index the Bloomberg galaxy index – which tracks 5 major cryptocurrencies – suggests similar findings to the GTI indicator.
Moreover, In Bitcoin's stead, comes Ethereum, which has incrementally risen by more than 80% over the past month alone and since it hit an all-time low back in mid-December.
Read more: Ethereum jumps Ripple to take back second spot in market cap; The Bitcoin standard? BTC to hit $100,000 if it becomes a "good store of value"; 8 long-term Bitcoin price predictions by experts; Will Bitcoin recover in 2019?; 9 Bitcoin price predictions for 2019 by crypto experts


Follow Chepicap now on Twitter, YouTube, Telegram and Facebook!