Reddit user posts warning about HitBTC not allowing withdrawals
A Reddit user has warned users that cryptocurrency exchange HitBTC has blocked his withdrawals after previously unfreezing his account and passing know your customer (KYC) on the exchange.
The Reddit user explains that their account had previously been forezen by HitBTC, and following several months and over 40 emails, the exchange finally unfroze the users account.
The user then withdrew most of their funds and traded on the exchange with reserve funds. The user then notes "I have built back my balance up to a couple BTC. With the proof of key date approaching, I felt that HITBTC is the prime suspect for being insolvent, so I tried withdrawing my BTC. Guess what, they blocked the withdrawal and froze my account again."
Sentiment on Reddit appears to mimic the user with regards to the legitimacy of HitBTC, with most calling the exchange a scam.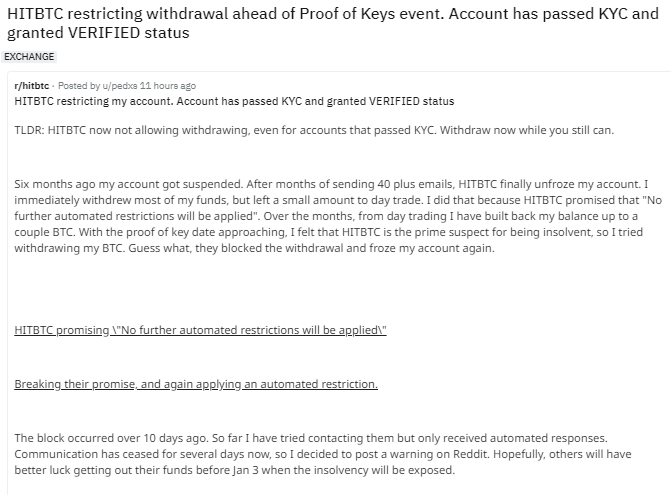 It also appears users on Twitter are having issues with their withdrawals. Could HitBTC be heading for insolvency?
@hitbtc
HitBTC - Liquidity issue on your side?
Why are you blocking withdrawals? Unable to transfer XRP's to alternative wallet.
"Insufficient funds on main account
For successful withdrawal funds on your main account must be no less than withdrawal amount plus fee. ..
"

— 💧CobraXRP🇵🇱 (@CobraXrp) December 31, 2018
It has been more than two days and now than 1200 confirmations. What is wrong with the deposit system?

— undroid new (@angryvazelinsky) December 31, 2018
Follow Chepicap now on Twitter, YouTube, Telegram and Facebook!