8 long-term Bitcoin price predictions by experts
While the market moves fast in crypto, actual development (both industry and regulatory) doesn't always match the pace, it's likely this imbalance that has left predictions around price action flopping consistently this year (except the bearish ones); but as fundamental development continues in the long term, value proposition increases… So forget 2018, and even the near future, here are the top 8 long-term price predictions for Bitcoin.
Adam Beck: $500,000 in "the years ahead" (5-10 years)
CEO of Blockstream, cryptographer, the inventor of hashgraph – a proof of work algorithm used in Bitcoin -, cypherpunk, the list goes on, Beck has many titles and a legitimate reason for auguring the following bullish prediction:
reddit thread https://t.co/f9VljWfXNY but "years ahead" could be 5-10 years? via a repeat of last years cycles. timing is hard, no dickline.

— Adam Back (@adam3us) November 22, 2018
Beck asserts that Bitcoin could rival gold, as suggested by many others before him, such as notable Bitcoin bull, Bobby Lee.
That's the real flippening @bobbyclee! personally I consider $250k-$500k/BTC plausible in the years ahead, from the digital gold, censor-resistent competitor to physical gold, and internet native digital money. https://t.co/hSq2aHvg8z

— Adam Back (@adam3us) November 20, 2018
Beck cites Saifedean Ammous, a famed economics professor who postulates that Bitcoin could become a quasi-gold standard; hence the hefty price point.
Watch: Will Bitcoin flip gold and reach $500,000?
Now you undoubtedly noticed Becks use of the term "dickline", no this isn't Technical analysis jargon, this refers to the deadline at which John MacAfee cuts off and eats his own penis. Which that brings us nicely to our next prediction…
John Mcafee: $1 million by 2020 (… or he'll cut off and consume his own dick on national television)
My god, there is something big riding on this one! (figuratively, of course, I've never actually seen it, thankfully)
McAfee made this infamous prediction back in November 2018. originally putting $500,000 on the table. The security magnate doubled down and raised the stake arriving at the $1 million by 2020 prediction using so-called "algorithms":
When I predicted Bitcoin at $500,000 by the end of 2020, it used a model that predicted $5,000 at the end of 2017. BTC has accelerated much faster than my model assumptions. I now predict Bircoin at $1 million by the end of 2020. I will still eat my dick if wrong. pic.twitter.com/WVx3E71nyD

— John McAfee (@officialmcafee) November 29, 2017
The curious (and perhaps, the morbid) can track how far away McAfee's prediction is from its target, thanks to this prediction tracker. The track currently shows BTC nearly 87% below what it should be: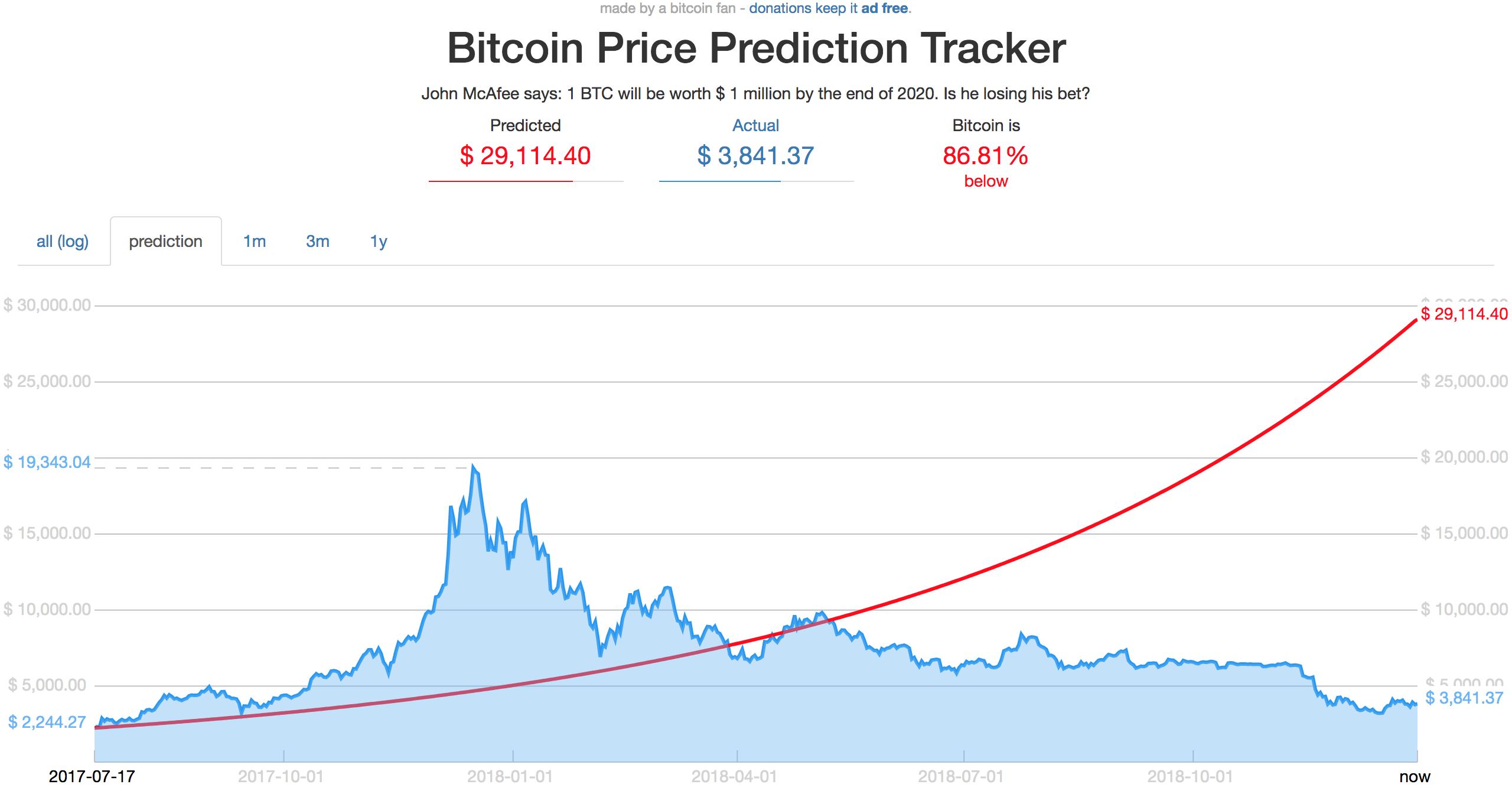 Read more: Prediction behind by 51%: Will John McAfee be forced to eat his... words?
From one winkle to another (…sorry, couldn't help it)
Tyler Winklevoss: $320K in 10-20 years
One-half of the famous Twins, responsible for the creation of the popular cryptocurrency exchange Gemini, told CNBC back in February 2018 that BTC could potentially be "40 times its current value" BTC having a 100 billion market cap back then, adding (along similar lines to beck) that Bitcoin could dethrone gold:
"Taking bitcoin in isolation … we believe bitcoin disrupts gold. We think it's a better gold if you look at the properties of money. And what makes gold gold? Scarcity. Bitcoin is actually fixed in supply so it's better than scarce … it's more portable, its fungible, it's more durable. Its sort of equals a better gold across the board," Winklevoss told CNBC.
"We think that there's a potential appreciation of 30 to 40 times because you look at the gold market today, it's a $7 trillion market".
Next up, and this time without any tentative link is...
Bobby Lee: 333K by 2021 (and then a crash down to $41k in 2023)
The aforementioned Bitcoin bull and co-founder of Hong Kong Bitcoin exchange, BTC China, made the prediction in December 2018, upping his previous longterm bet from 80k to 333k, stating that BTC could enjoy this price point as long as "history repeats itself":
If history repeats perfectly, then the current bear market for #Bitcoin would bottom out at $2,500 next month, in Jan 2019.

And then the next rally would start in late 2020, peak out in Dec 2021 at $333,000, and then crash back down to $41,000 in Jan 2023.
Something like that?🙂 https://t.co/M8ljIVnt73

— Bobby Lee (@bobbyclee) December 7, 2018
Lee posits that BTC could bottom at $2.5k in January 2019, rally in 2020 to pass the all-time high of 20k, head towards 333K in December of the next year and subsequently come crashing dramatically down to 41k in January of 2023. Fair enough.
On to the next augured price, and we have none other than famed rapper, Tim Draper.
Tim Draper: $250K by 2022 / 2023
Draper, the American venture capital investor, and staunch Bitcoin evangelist has stood by his bullish prediction of 250k by around 2022, since April of 2018.
Oops! I predicted $250k in 2022. My tweet last night was missing a zero. $250k is the number!

— Tim Draper (@TimDraper) April 13, 2018
Despite the continued downturn since April, Draper has consistently stood by this prediction. Speaking on a panel at the Web Summit in Lisbon back in November, he reiterated that 1 BTC will be worth $250,000 by 2023, adding one year to his previous assertion.
Read more: Investor Tim Draper stands by his '$250k by 2023' Bitcoin prediction
Draper didn't really give a reason for this price point besides having a "good sense" but he did give us a nice little rap…
(Anyone else getting flashbacks of their drunken uncle at Christmas?)
Mark Yusko: 500,000k by 2022
April seemed to be a month of bullish predictions, with Hedge fund veteran, Mark Yusko doubling down on his contemporary, Draper, with an earth-shattering price trajectory:
#Bitcoin is #JustGettingWarmedUp
$25,000 end of 2018
$75,000 end of 2020
$200,000 end of 2022
$500,000 end of 2024 https://t.co/3ZarEFIRxH

— Mark W. Yusko (@MarkYusko) April 21, 2018
Mark Yusko: 500,000k by 2022 20x in 10 years
However, unlike Draper, Yusko, CEO, and chief investment officer of Morgan Creek Capital, backed down from this prediction, instead offering a slimmed down 20x return on investment:
"If you are buying today, I don't think you need a very long time horizon at all to make a nice return…over a decade, I think you can make 20x plus your money. I really do. I think it's one of the few asset classes where you have that asymmetric return profile", he told CNBC.
Max Keiser: $100k (and beyond).
Keiser, well known for presenting the Keiser report - a financial news program – has been a vocal advocate of the principle of decentralization and ideals of cryptocurrency; He has also stuck to his long-term prediction of 100k since he predicted back in June.
his reasoning is similar to that of Bobby Lee; both believing in an ongoing boom and bust cycle that continues to incrementally increase value over the years:
This pattern will repeat all the way to Bitcoin $100,000 and beyond... pic.twitter.com/o9Wj4reBtv

— Max Keiser [Jan/3➞₿🔑∎] (@maxkeiser) June 2, 2017
Standing by his prediction in December, Keiser took a slightly darker tone:
"Bitcoin is the monetary black hole that will gobble up all fiat and rise to more than $100,000 doing it. But humans themselves may never see that day.
I have more faith in BTC than I do in humans surviving the ecological holocaust we've triggered with our collective stupidity. Bitcoin might only be used by our robot successors. Ironically, they don't care about price." He said in an interview with the Bitcoinist.
Okay so up until now its been fairly cheery (well maybe not Keiser, took a slightly dark turn there) so maybe its time to look at a bearish prediction, devil's advocate, ya know?
Aruther hayes: Bear market until 2020.
Breaking the mold is CEO of BitMEX, Arther Hayes, with his unpopular opinion that BTC will remain in the bear market until the spring of 2020. He clarified this point of view in an interview with Yahoo finance UK:
"I'm just basing it off my previous experience. I started in bitcoin in 2013 when the price went from $250 to $1,300 and then from 2014 to 2015 was sort of the nuclear bear market. Price crashed, volume crashed — very, very difficult to make money," he said.
Hayes previously predicted $50k by the end of 2018, which, needless to say, didn't come to fruition leaving some to doubt the validity of his newest prediction.
Our last prediction Is a bullish one. As they say, always end on a high …
John Pfeffer: $700K in the future (once BTC replaces gold)
Partner at his family firm, Pfeffer capital, John Pfeffer asserts that Bitcoin could potentially reach 700,000, in an unspecified amount of time. During a Sohn Investment Conference back in April, Pfeffer, reiterated what a handful of our resident augurs have stated in their own predictions: Bitcoin is the "first viable candidate to replace gold the world has ever seen." Pfeffer added that if "bitcoin becomes the dominant non-sovereign store of value, it could be the new gold or new reserve currency."
Read more: Will crypto be the next gold standard?

Going further, Pfeffer stated that Bitcoin is better than gold "on every front" and threw in the statistic that if Bitcoin replaced even 25% of foreign gold reserves that its market cap would rise to around $6.4 trillion.
To seal the deal, alongside his bullish sentiment, Pfeffer went on to 'donate' 10 BTC to the Sohn Foundation (a USD equivalent of $90k at the time) with the condition that they wouldn't cash them in for five years: "Buy the ticket, take the ride." He said.
So there you have it, we have Bitcoin predictions for the next 10 years ranging from a prolonged bear market to $1 million and everything in-between. Only time will tell what the future really has in store for the #1 cryptocurrency, for now, we can only guess.
Read more:
- 9 Bitcoin price predictions for 2019 by crypto experts;
- Will Bitcoin recover in 2019?;
- What are the hottest cryptocurrency trends for 2019?;
- Is Bitcoin dead? 8 reasons why it is NOT
Follow Chepicap now on Twitter, YouTube, Telegram and Facebook!