Market recovery sees $10 billion added to market overnight, BTC testing $4,000
Following Ethereum's rally yesterday which saw the project climb 14% in a matter of minutes, the entire market appears to have followed the trend with an additional $10 billion added to the total market cap.
Ether saw a massive jump yesterday to climb over $135, triggering a massive market climb which surged the total market cap by over $10 billion overnight.
Recap: Ethereum shows sudden flash rise in price! Up 14% in minutes
Total market cap currently sits over $132 billion, with Bitcoin back to testing $4,000


95% of the top 100 coins saw green over the past 24 hours, recovering from the earlier drop in the week. 6 of the top 10 saw double digit gains in price, with Ethereum still leading the pack, up 17.15%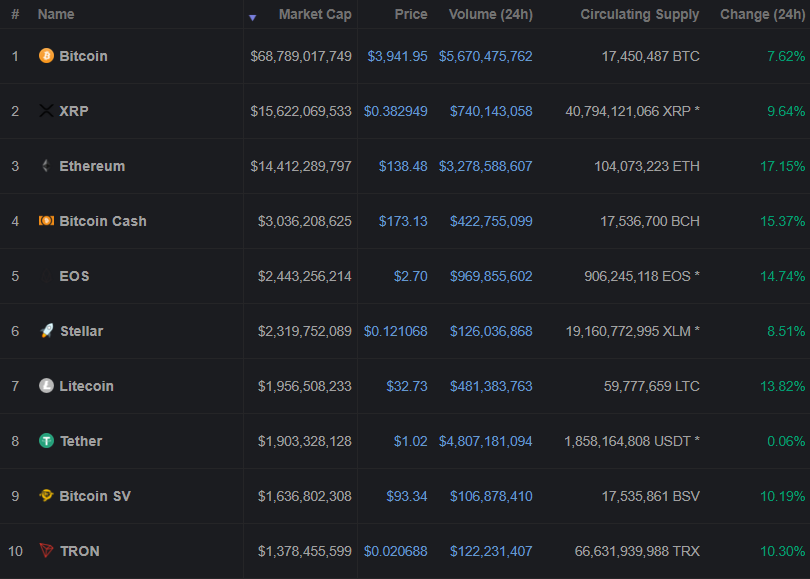 December 2018 hails in comparison to December 2017, which saw one of the greatest bull runs. While prices currently dwarf the prices and market cap of one year ago, positive steps are being made in the industry to potentially ignite another bull run in 2019. Most projects have recovered from earlier year lows, including Ethereum which dropped to $80 earlier this month.
Read: Will Bitcoin recover in 2019?
Follow Chepicap now on Twitter, YouTube, Telegram and Facebook!